Marshmallow market share grows in new Android distribution stats, Nougat nowhere to be seen
Another month has passed, which means we get an updated chart that shows the Android platform's distribution in the world across all the different versions of Google's mobile OS.
Compared to last month, Marshmallow has grown some more, now having 18.7% of the market (up from 15.2%). The two Lollipop releases combined now command 35% market share, a .5% drop from August. KitKat keeps going down too, if very slowly - 1.5% in the past month, to be precise.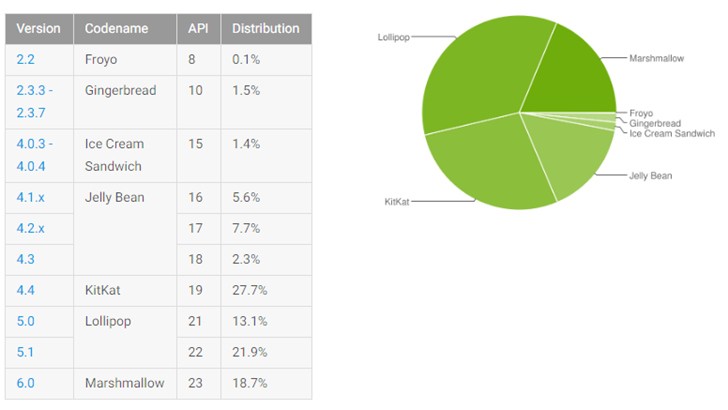 All of the Jelly Bean iterations combined now add up to 15.6%, 1.1% less than in August. Ice Cream Sandwich fell .2%, the same as Gingerbread. And, as usual in the past few months, Froyo is stuck at 0.1% of the market.
Obviously missing from this month's chart is any mention of Nougat, even though the final release of this version of Android started going out to supported Nexus, Pixel, and Android One devices on August 22 and the data you see in this report was collected during a 7-day period ending on September 5. According to Google's own admission, Android versions with less than 0.1% distribution are not shown on the chart. So that's where Android 7.0 Nougat is, currently. Hopefully it will manage the amazing feat of breaking past 0.1% by October.
j
really froyo?This handset are very old though.
?
Sure, allow me to revise it a bit for you. [Even though updating is notified and optional], the generally unrivaled fast adoption rate to the latest version update available makes updating iOS look either seemingly forced or seemingly uncomplicated, ...
ADVERTISEMENTS