Here's an interesting idea - what if Pro = Stylus in Apple's mobile world? There's not much precedence for that, just the iPad Pro (and certainly not the Mac(Book) Pro).
Still, artist Martin Hajek (known for beautiful 3D renders of Apple products based on leaked blueprints) imagined such a world. The iPhone Pro is shown off with an Apple Pencil.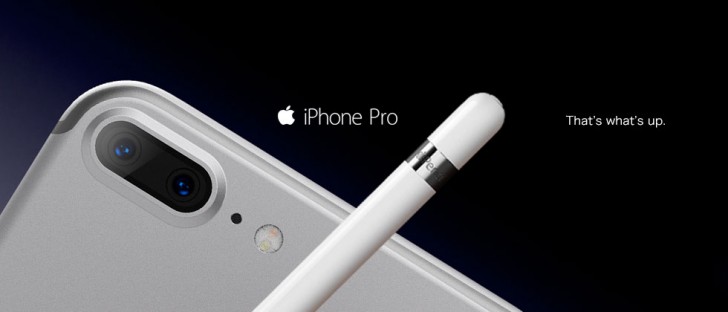 Since the Pencil is 8.9mm in diameter, it can't sheath into the phone Galaxy Note-style. Instead, it may be attached (at least tied) to cases for the Pro.
Another feature associated with the iPad Pro is the Smart Connector, which allows the Apple Keyboard to talk to the tablet over a wired connection (and share battery power), forgoing the usual Bluetooth awkwardness.

And so the iPhone Pro renders come complete with a Smart Connector of their own. This could be a better way to charge the Pencil (via the case) rather than sticking it up the bottom into the Lightning port.
So, what do you think of this concept? Will the flagship iPhone benefit from a stylus and extra wired connectivity? Or does the Pencil work because of iPad Pro's big screen and won't at 5.5"?
.
The comment you just replied to did not state Samsung is a copycat. What he/she was pointing out is it would be better to invent something new than to copy from other companies like Samsung. In simpler terms, apple must invent something ne...
.
Please do not try to correct somebody if you also got a lot of grammatical errors. Thanks ! ;)
L
And as usual it is true.. Why should somebody suppose to hold on truth? Just not to inflict pain for outdated iphone users? No other real reason..