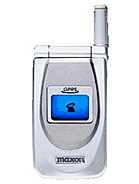 l
this phone is very good and i would like to buy it, how?

please reply.
lucy
n
i think that the phone is great!!!! But i need a new phone charger and i carnt find one, do u now where i could get one from n how much it wud cost?
k
I have a MX-7921 from Maxon,and I´m sure that´s the smallest GSM-phone in world.It´s very very small and light,just 59 gr.
Total of 24 user reviews and opinions for Maxon MX-7920.