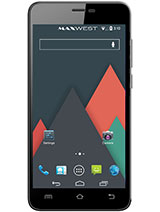 ?
i am searching for a maxwest astro 6 screen and cannot get any anyone have idea where i could get one ?
s
AnonD-662995, 19 Apr 2017I hate this phone. It is the worst phone out.If u are thinking about buying this phone it is better u take a brick make some chalk markings on it and call it a Samsung or an iPhone.
B
China version Maxwest will get you many ads and viruses. Avoid this by getting genuine Android phones.
F
I personally have no problems with the phone itself. It runs aswell as any cheap android phone. My problem I with the signal strength I get. Dismal...certain areas in my city pick up no network signal and I know its not the provider because signal is fine on other phones using the same company
D
I personally sold this phone to one of my friends. he returned it within a month (i have never faced such kind of shame before). then I tried to sell this on very little price like 50$ to a customer. he also got angry. there were too many ads were popping up continuously.
even we put that phone on charger it takes more than 6 hours.
very very disappointed from this phone. this phone worth 0 dollars.
seriously..
K
My phone does not hit the letters rite, it overheats, gets very hot,don't know if it has a defect, but I would like to replace it, the dealer I bought it from is now out of business. I paid 250.00 for this phone and should be reimbursed. Had nothing but problems with it since I got it. Their should be a recall on it, its not a good phone at all. Very disappointed. Can someone help me to get a better phone, plz. Thanks.
i
spotimafia, 30 Jan 2016hahahaha ...Wow to many buttons for me maxwest please .. just .. just forget about making phon... morepeople like you are incredibly annoying to the level-headed users of this website. If you have nothing of value to add, just please.. stay wherever you are and annoy those people. Not us.
s
hahahaha ...Wow to many buttons for me maxwest please .. just .. just forget about making phones please
Total of 11 user reviews and opinions for Maxwest Astro 6.