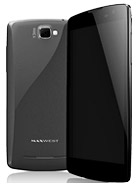 P4
My husband also replaced two of his phone with the Gravity 5.5 because it's dual sim. It's light weight and thin. I got it from yippz they shipped it to us so fast. This phone has more to it then a brand name and cheaper!
B
Bought one for my mom to replace her 2 phones. Why not one huge one that's twice the size right? Lol jk. It's quite a well built phone. Its got a metal frame with glass, capacitive screen and plastic back. The screen is 200ppi which is ok unless you're holding it close to your face which is unnecessary with such a large bright screen. The processing power is sufficient and Kitkat runs pretty smoothly. Stereo speakers have great quality. Its head and shoulders above phones in the same price range. The glass screen on the Gravity 5.5" felt thicker than the one on the 6". All in all a strong 7:10
Total of 23 user reviews and opinions for Maxwest Gravity 5.5.