McDonald's the largest fast-food chain in the world, will update its restaurants with self-service kiosks, mobile payments, and table service. Reuters reports that McDonald's will be updating restaurants with these new high-tech implementations with hopes to catch up to the other guys who are well ahead in these aspects.
McDonald's isn't the first US restaurant to allow online ordering. Starbucks, Taco Bell, Panera, and a few major Pizza chains like Domino's already offer online ordering via an app or self-service kiosks where customers can place orders while completely bypassing interactions with a cashier.
The first restaurants to adopt the company's newest initiative will be selected from San Fransisco, Boston, Chicago, and Seattle and will start going up next year. Meanwhile, 500 restaurants in Florida, Southern California and New York are already seeing these new changes. The company hasn't mentioned, though, when the new changes will roll out to all restaurants nationwide.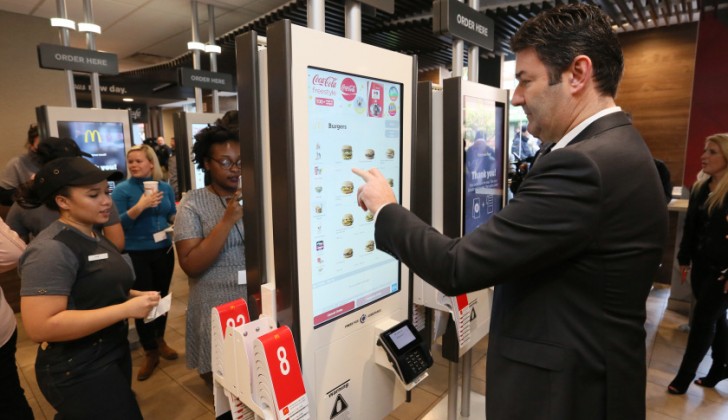 CEO Steve Easterbrook demonstrates using a Kiosk
In a time where the cost of labor is steadily rising, not to mention the pressure of organizations trying to raise the minimum wage to $15, these changes could counter rising costs by replacing some of the front line employees with kiosks, which cost about $50K and $60K to install in each restaurant.
What do you think about these changes? Is it about time for McDonald's to get with the program or could it be too late?
D
That dude sounds like a Luddite. People destroyed machines when they were first introduced because they thought it would replace them during the early days of the industrial revolution and yet here we are.
T
Here in my country as well.
?
They need this at In-n-out so I don't have to repeatedly tell them a simple order.