Measuring the bezels of the iPhone X - can Apple win the bezel-less war?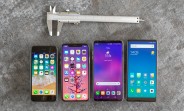 "Our vision has always been to create an iPhone that is entirely screen" says Apple about the iPhone X. An admirable goal, though Apple is hardly a pioneer here – Sharp went "bezel-less" years ago, Xiaomi pushed the concept into the public consciousness. Still, you can't deny the X is a massive improvement over all iPhones dating back to the original.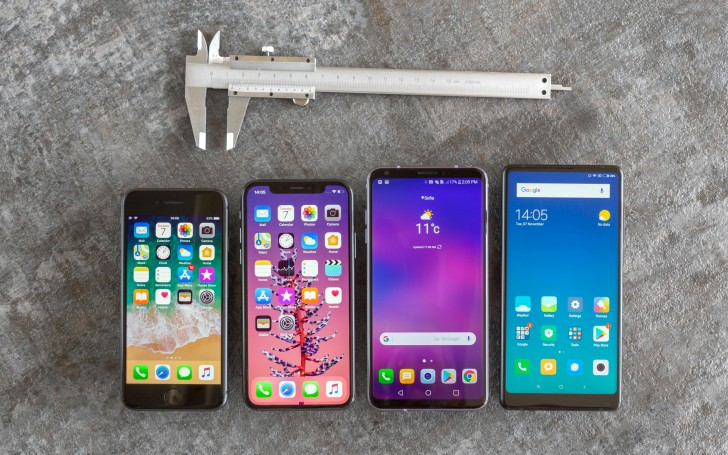 We decided to measure Apple's achievement – how thin are those bezels? Is it a huge improvement over the iPhone 8 Plus? Obviously yes for the top and bottom bezels, but we think those are of secondary importance.
It's the side bezels that matter – with today's large screens, thick side bezels can make the phone so wide as to be impossible to hold comfortably.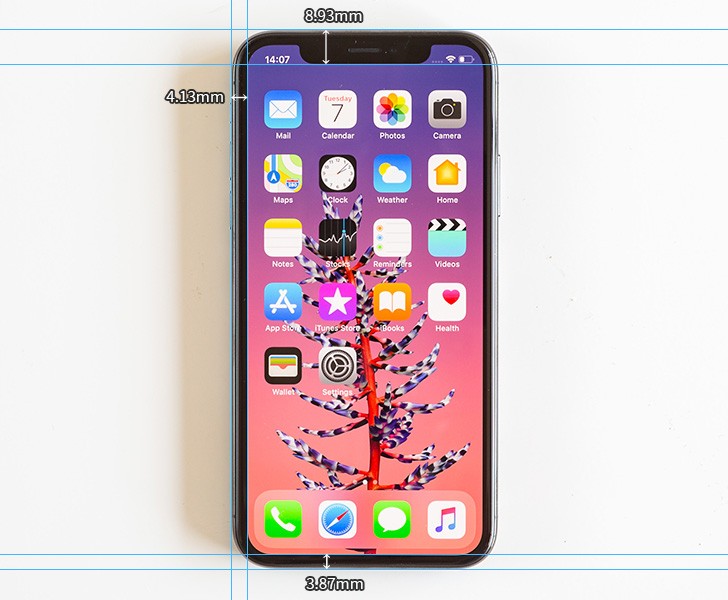 We measured the side bezels of the iPhone X at 4.13mm. That's almost a full millimeter thinner than the iPhone 8 Plus bezels (and don't forget any saving here counts twice). It's not as thin as it could have been though, the two Androids we used as control are both comfortably under 4mm.
Perhaps Apple didn't want to go too thin – the iPads have great palm rejection, but even then you don't want accidental touches. As you may have noticed, we didn't include the Galaxy flagships as their curved screens are difficult to measure but also exacerbate the accidental touch issue.
Anyway, if you look closely, you'll see that the bottom bezel is slightly thinner than the side bezels. So Apple could have gone thinner but chose not to for one reason or the other.
| | | | |
| --- | --- | --- | --- |
| | side (mm) | top (mm) | bottom (mm) |
| iPhone X | 4.13 | 8.93 | 3.87 |
| iPhone 8 Plus | 5.03 | 19.44 | 19.29 |
| LG V30 | 3.67 | 7.73 | 7.27 |
| Mi Mix 2 | 3.72 | 4.52 | 10.57 |
Note that the "top" bezel includes the notch with the TrueDepth camera. It's impressive that this notch is smaller than the bottom bezel of the Xiaomi Mi Mix 2, even though it contains a minified Kinect.
Also, it's only a millimeter more than the top bezel on the LG V30, despite housing one of the stereo speakers. If you want to imagine a V30 with stereo speakers, you can look at the Pixel 2 XL.
In short, Apple's engineers deserves kudos – their product strikes a great balance between minimal dead space and ergonomics.
T
And iPhone XS that came out a year later is still this fat. But luckily they have GSM to fatten up the competition too. I mean they count almost 4mm on the Mi MIX 2 when the phone's side bezels are less than 2mm. Good job measuring there lol. I ...
M
iPhone X different thickness bezels are made so because of optics, here's an article about this: https://learn.scannerlicker.net/2014/10/25/the-a­rt-of-eyeballing-iv-the-stroke-optics/ TLDR: Horizontal lines appear thicker than vertical even thou...