MediaTek has clearly been ramping its mobile chipset efforts up lately, with an obvious focus on specific features and markets. After the gaming-geared Helio G90 dropped in July the company has turned its attention to 5G in both the high-end segment and more-impressively so - the midrange.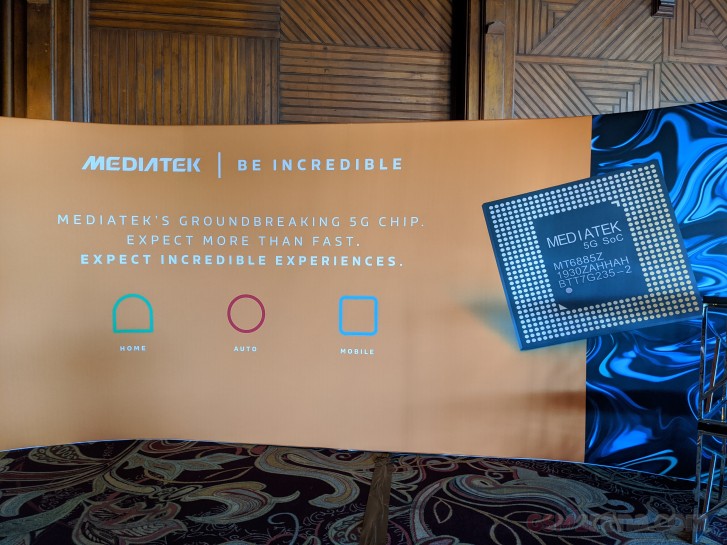 As per an earlier company roadmap, the first 5G chips based on the Helio M70 modem are expected to come to market in Q1 next year. Things appear to be going according to plan since MediaTek has now officially scheduled a November 26 unveiling of its first 5G chip at the MediaTek Summit. We even have a few photos of the actual chip to share, but annoyingly, no official hardware and feature info yet.
That being said, we can make some educated guesses and estimations here. As seen in the shots, the chipset featured in the promo materials has the MT6885Z designation. Cross-referencing that with an earlier leak, we can assume this is the upcoming flagship-grade 7nm silicon, MediaTek is gearing-up for parthers like Oppo and vivo. Some of the suggested specs for the MT6885 should thus include Cortex-A77 CPU and Mali-G77 CPU cores, sub-6 GHz frequency support, third-generation AI processing engine and camera support of up to 80 MP and 4K 60fps video recording. All on the aforementioned 7nm FinFET process. Allegedly the MT6885 is already in mass production and should start shipping to manufacturers in Q1 2020.
More interesting still, however, are MediaTek's efforts to bring the Helio M70 SA/NSA dual-mode 5G modem to the masses, within a more affordable mid-range chipset package. That one will likely be called the MT6873 and if rumors are believed, it should use Cortex-A76 cores and the same 7nm FinFET process. Price-wise, we are talking about a chip intended to power phones around the $300 mark. Pretty impressive. The MT6873 is expected to see a size reduction of about 25% compared to the MT6885 along with other yield-related cost-reducing measured. The MT6873, however, is expected to enter mass production no sooner than the second quarter of 2020. So, we are still probably a year away from actually seeing MediaTek's affordable 5G plan in action.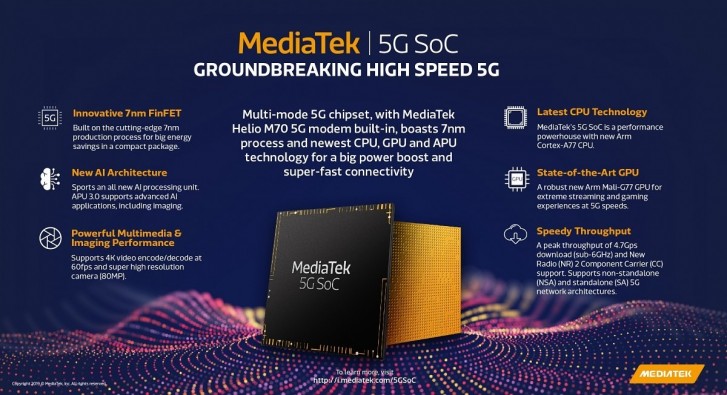 Plus, things only get more ambitious after that, since MediaTek's roadmap allegedly includes a turn to TSMC's 6nm process, with four different designs supporting millimeter wave apparently already under way. Mind you, TSMC's 6nm process uses EUV and is still battling some major yield and cost issues. So, all in due time.
?
As Always, you don't give any proof! And your exemple makes me laugh! Mt6589? Are you serious? It's not even 4g!!! Welcome to 2013!!!! True this soc and the previous one (mt6577) equiped many phones that had GPS's problems...but wake up, i...
?
My Redmi Note 8 Pro can get 1m accuracy...
D
With much more competitive price than Snapdragon or Bionic they would and should be more preferable. Because greedy manufacturers like Samsung Sony or other companies can save a lot on a chipsets but keep same price to increase profits.
ADVERTISEMENTS