MediaTek was among the first to announce a Cortex-A72 based chipset - shortly before the MWC. Now more details have emerged from Taiwanese publication Digitimes has uncovered some more details. The new part should arrive in Q4, meaning we may see devices at CES/MWC 2016.
The MediaTek MT679X chipset will pair the fast Cortex-A72 processor cores with A53 ones in a big.LITTLE setup for improved power efficiency.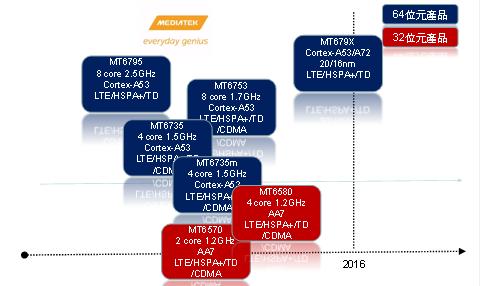 The new chipset will leave the current 28nm process for a more efficient one though if it's not clear if the company will go for 20nm or the latest 16nm FinFET. At 16nm, the A72 core will be 3.5x faster than a 28nm A15 and 1.9x faster than a 20nm A57. That's assuming the same power use.
That's for the CPU side, for graphics there's continued talk that MediaTek is dropping ARM's Mali and partnering with AMD for new mobile graphics. Unlike its arch rival Nvidia, AMD is no longer in the phone/tablet GPU game – it sold its department to Qualcomm, which renamed its products Adreno. There's not a lot of details for now though.
C
Well, if you haver more performance for the same consuption, that's more efficient. Logic says that, if you haver more performance for the same power, then you get the same performance for less power. More efficient. Get it?
D
the truth has been spoken. big. shittle is good on paper, but in reality its the complete opposite
l
how come the smaller the node process, the more better performance ouput at the same power consumption. i thought the smaller the node process the more efficient the SOC