MediaTek is working on its first 6nm chipsets and there are at least three different versions, likely future Dimensity models. The middle child, the MT6893, seems to be the one closest to completion and we've already seen it trade blows with the Snapdragon 865 in an early Geekbench test.
Now the AnTuTu team has spotted the new chip in its database and the compound benchmark shows the Dimensity actually outperform the outgoing flagship chipset by Qualcomm.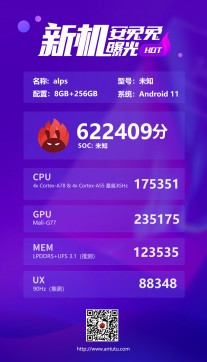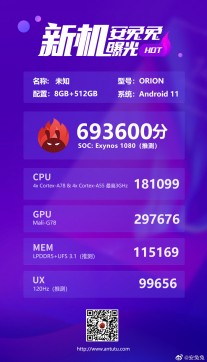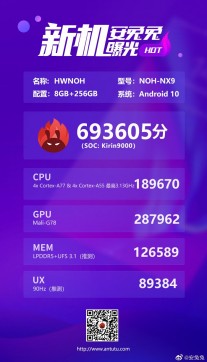 AnTuTu scores: MediaTek MT6893 (6 nm) • Exynos 1080 (5 nm) • Kirin 9000 (5 nm)
It is slightly behind in terms of CPU performance (matching the Geekbench result), but its GPU proved slightly faster. This result is from a development board with 8GB of RAM, 256GB storage and a 90Hz display (1,080 x 2,300 px). The memory score is also a bit higher than the Snapdragon-powered phone used for the comparison (an Oppo Find X2 Pro).
The MT6893 is built around four Cortex-A78 CPU cores – the prime core will run at up to 3.0GHz while the other three are capped at 2.6GHz. There are four A55 cores as well. This is a similar configuration to the Exynos 1080.
For the GPU MediaTek chose a Mali-G77 MC9 while Samsung went for the newer G78 cores. The Dimensity chip is aiming for premium but not quite flagship devices, MediaTek is preparing the MT6895 for that role (the third chip we've heard about is the MT6891).
AnTuTu
Higher is better
Kirin 9000
693605
Exynos 1080
693600
MediaTek MT6893
622409
Snapdragon 865
611419
AnTuTu (CPU)
Higher is better
Kirin 9000
189670
Snapdragon 865
186750
Exynos 1080
181099
MediaTek MT6893
175351
AnTuTu (GPU)
Higher is better
Exynos 1080
297676
Kirin 9000
287962
MediaTek MT6893
235175
Snapdragon 865
222405
AnTuTu (Memory)
Higher is better
Kirin 9000
126589
MediaTek MT6893
123535
Exynos 1080
115169
Snapdragon 865
103906
AnTuTu (UX)
Higher is better
Exynos 1080
99656
Snapdragon 865
98350
Kirin 9000
89384
MediaTek MT6893
88348
The AnTuTu results are compiled from previous leaks, comparing some of the upcoming chipsets that will be duking it out in the high end market next year. Keep in mind that these are preliminary results, tests with real devices may reshuffle the positions.
With some makers migrating from Qualcomm's Snapdragon 800-series to the 700-series due to cost, MediaTek could provide a performant value-for-money alternative. However, it will have competition as Samsung is reportedly talking to Xiaomi and Oppo, which may adopt Exynos for some of their models.
H
Simple,no one believes antutu,they cna be manipulated by the smartphone company,but about geekbench no one said it bad,ngl mediatek really becaming good right and Qualcomm is now focus on their low and midrage smartphone.like 480g for low end and 780...
?
You are right. But they are 1 year behind
O
because exynos was already mentioned, samsung and huawei have already confirmed that they cheated to keep up the score with snapdragon in benchmark, and mediatek proudly with the result they even boast their low end P95 chipset having the same score ...
ADVERTISEMENTS