Pretty much all the rumors regarding the new iPhone turned out true - the iPhone 3GS (S for Speed) has a 3 megapixel camera with video recording and a compass. The unexpected thing however is that 3G S will look exactly as the original iPhone 3G.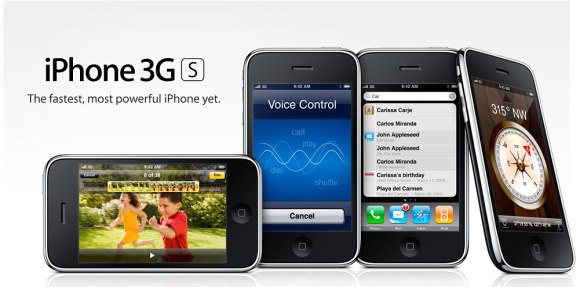 Beside the new VGA@30fps video recording, the auto focus camera with touch focus (and everything else automatic) and of course, the built-in compass, there are no other significant changes as compared to iPhone 3G. But there are quite a lot of details that have undergone an update. Check them out right after the official ad video.
The camera should have improved low light sensitivity (whatever that means) and macro mode (10cm). Other than that there still won't be any settings at all to tinker with. A simple video editor will allow to trim your recorded videos.




iPhone 3GS sports video recording • you can trim videos and upload them directly from the phone
One other novelty though not as significant is the voice control/dialing. A longer press on the Home button will invoke the voice command interface.




Voice control is among the new features
The compass has its own app but also integrates with Google Maps to allow seamless rotation of the map in thre right direction.



The compass has its own app but also integrates with Maps
The new Accessibility options allow any text that you point at to be read out loud.


Computer reading of text is possible now
Apple have a long-standing cooperation with Nike and their personal running service called Nike+. You'd probably be glad to learn that thanks to the new accessories support that comes with iPhone OS 3.0, the iPhone 3G S has wirless support for the Nike+ system and its monitors.



Nike+ support is also on board
In response to the numerous security concerns with the previous iPhones, the iPhone 3G S now comes with hardware encryption that safeguards the personal data on board. Additionally iTunes backups are also encrypted. The Remote Wipe feature is now available to all users and is instant.
For those of you who always dreaded losing or misplacing their phone, the iPhone 3G S will offer a special Find my iPhone service that should help you get through those tough times. It will allow the user to locate the phone by simply logging in to MobileMe on any browser.
You can then either send a message to the phone which will play a sound even if it's in silent mode. And in the most unpleasant circumstances that your iPhone 3G S gets stolen you can send a remote wipe command which will delete all of your data, avoiding getting it in the wrong hands. Should you find your iPhone later on, you can sync it up with your latest backup on the computer and you should be up and running in no time.





Hardware encryption is also part of the package • The new Find My iPhone service is also available to security concerned Mobile Me users
Even though the new iPhone 3G S has increased functionality and virtually the same dimensions Apple have somehow managed to increase its battery life by about 20 percent. The talk-time in 2G network has been upped to 12 hours (10 on the iPhone 3G) and the audio playback has reached 30 hours (24 on the iPhone 3G). Video playback endurance has been upgraded from 7 to 10 hours, while the stand-by and 3G talk time remain unchanged.



The iPhone 3GS battery life is improved by 20%
iPhone 3GS availability
The iPhone 3G S will be available as soon as 19 June 2009 in the first wave of countries and it would spread to all the 80 planned countries within a couple of months later.
The first wave will hit USA, Canada, France, Germany, Italy, Spain, Switzerland and UK on 19 June, while the rest of the countries will follow suite on 09 July and 09 August.




The three waves of Apple iPhone 3GS planned availability
Available again in white and black, the iPhone 3G S will retail for 199 US dollars and 299 US dollars for the 16GB and 32GB version respectively.
In the same time, the iPhone 3G will continue selling at a reduced price of only 99 US dollars for the 8GB version.
iPhone OS 3.0
The new iPhone 3GS will come with the version 3.0 of the iPhone OS. Representing a significant update over the currently available one it will be officially released on 17th June. The upgrade will be free for iPhone and iPhone 3G users, while iPod Touch adopters will have to part with 9.95 US dollars to get it.
We have already listed most of its new features when Apple announced it officially but here is a quick refresh of the highlights. Background notification service, system-wide cut, copy and paste will be at the users disposal, along with the cool-sounding shake to undo. The long sought after MMS support is also included and will be supported by 29 carriers at launch, while some like AT&T promise to catch up later on.
iPhone 3.0 OS will come with extended language support for over 30 different languages including Hebrew, Arabic, Thai, Greek and Korean. Furthermore the OS will be localized for each supported language.
A hip feature of the new OS is tethering which allows sharing the iPhone internet connection with a desktop computer. It will work with both Macs and PCs, wired over USB, or wireless over Bluetooth, without even needing any additional software to be ran. However, only now Apple revealed that it will require carrier support to work. 22 carriers in 44 countries will support iPhone tethering at launch, but unluckily for our American fellas AT&T is again left out of the list.
A nice surprise is the TomTom GPS navigation application that is already working on the new iPhone OS. Making use of the new APIs in the iPhone OS 3.0 that allow third-party applications to use Maps, GPS navigation is now possible. We really hope there would be some way to pre-download the map data on the phone instead of continuously taking it over-the-air - that can be quite expensive, especially in roaming.
TomTom have also prepared a dedicated windshield mount as an optional accessory, which charges the iPhone beside holding it in place.





GPS navigation is finally coming to the iPhone • The optional windshield mount
For a full changelog of iPhone OS 3.0 follow the link.
Image source: http://www.gizmodo.com
d
do you still have the i8910HD in your possession? If so how much would it take for you to part with it?
t
I to have had pretty much every phone going! recently, the htc touch hd and then samsung i8910hd but have just gone back to iphone 3gs and have to say it is far more responsive and quicker than the samsung! and of course applications are better and c...
?
OMG!!! is that so ? WOW!!! GREAT!!! Canon DSLR pictures worse than iPhone. WOW! Great discovery :P When are people going to use their brain ?
ADVERTISEMENTS