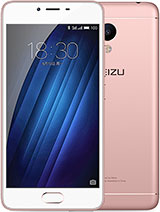 m
why this model now? only cause of 150 mah stronger battery? they is daft? i want it.
G
Totally identical to meizu m3. What is the point of launching this phone.
S699129
8 & half months since Android M release and vendors are still hawking new wares with Android L -its Shameful.
?
If meizu copies samsung's edge screens, that means they are the best in copying other oems. If they already did, they really need other oem innovations to copy so the can sell it at cheaper prices.
?
Nobody will complain about this shit's ~69.5 screen to body ratio, it's 720p ips lcd display, it's mediatek processor ans it's crap design and quality because everybody loves shit and if this was like a Sony device, then everyone would say that they won't buy it because of these low specs.
Total of 267 user reviews and opinions for Meizu M3s.