Stock Google Maps
The Meizu MX comes with a GPS receiver, which took less than a minute to get satellite lock from a cold start. You can use the A-GPS functionality to get near instantaneous locks or the network positioning if you only need a rough idea of your location.
Our unit came with Maps 5.1 out of the box but we easily updated it to 6.0.3, which gives you access to some great features. Offline rerouting is one – if you stray off course, Maps will recalculate the route without the need for an Internet connection. You can't change the destination without a connection though. There are also 3D buildings, two finger rotation, tilting and so on.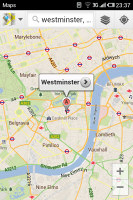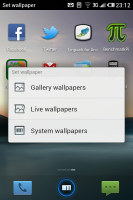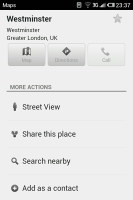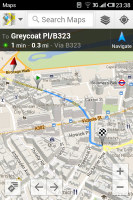 Google Maps on the Meizu MX • Plotting a route
Of course, those features aren't available everywhere. 3D buildings are available mostly in the biggest world cities.
Turn-by-turn voice guidance using Google Maps Navigation is only available in select countries and unless you live in one of them the best you can do is plan a route in advance and keep an eye on your current location during travel.
Street view is, as usual, a part of the standard package - it gives you a panoramic view of every bit of road in the covered areas. With the compass mode enabled, it feels like a virtual tour of the place.
Android Market and Meizu's Mstore
The Android Market has several scrollable tabs - categories, featured, top paid, top free, top grossing, top new paid, top new free and trending. This organization reminds a lot of the Apple's App Store.
The in-app section is untouched by the recent redesign and we still find it quite unattractive. It offers useful info on the app, like rating and comments along with the info, screenshots and demo videos by the developers.
There are all kinds of apps in the Android market and the most important ones are covered (file managers, navigation apps, document readers etc.).
Also on board the Meizu MX is the Mstore. It's an alternative app store run by Meizu with both free and paid apps and games. The content in there is targeted at the Chinese market, so it's a good place to look for apps if you speak the language, but otherwise you should stick to the regular Market.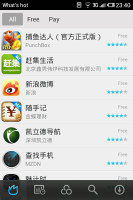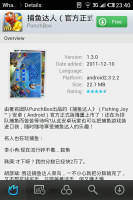 Mtsore is targeted at the Chinese market
Final words
The Meizu MX made some big promises when it entered the scene and it has delivered on several of them. But it also failed to fulfill others. Also, the pursuit of imitating the iPhone is a big negative in our opinion - it goes beyond borrowing ideas (which practically all makers are guilty of), it straight up copies a few pages. That puts it too deep in iClone territory for comfort.
There're some things about the MX that scream "Come on, Apple, sue me!" But Meizu seem beyond the point of looking for this kind of… erm… publicity.
The MX is well put together but it's made of some unflattering materials. The screen while of high resolution and pixel density leaves something to be desired when it comes to contrast and viewing angles.
The camera also doesn't quite live up to the standards set by the current 8MP leaders, but the situation-aware keys were pretty neat. Best of all we liked the Exynos chipset, which offers plenty of oomph and will get even better once Meizu finalizes the software that gets the best out of the processor at 1.4GHz.
Speaking of software, there were some real advantages over vanilla Android but also steps back in a few instances. Still, it's a truly unique Android experience even if it is inspired by iOS in places.
On paper, the Meizu MX is up there with the best of them. Still, if you're not willing to take a chance on an unproven manufacturer, you can go for the usual suspects like the Apple iPhone 4S, the Samsung Galaxy S II, the HTC Sensation XE or the Motorola RAZR XT910.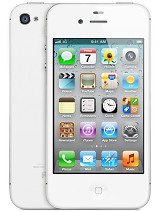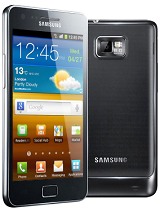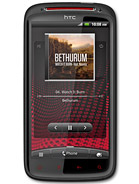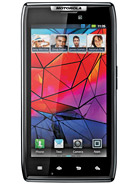 Apple iPhone 4S • Samsung I9100 Galaxy S II • HTC Sensation XE • Motorola RAZR XT910
Some of them aren't much pricier than the Meizu MX, so if you were looking for a cheaper dual-core deal you might want to check out the LG Optimus 2X or the Samsung I9103 Galaxy R.
Or if getting the best Android experience is your main concern, the Samsung Galaxy Nexus is a safer bet.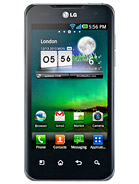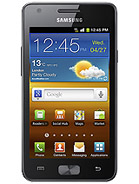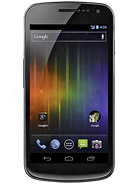 LG Optimus 2X • Samsung I9103 Galaxy R • Samsung Galaxy Nexus
We're guessing the Meizu MX will find plenty of buyers in its home market. As for going international, we're not so sure. It's a solid phone no doubt, but it has flaws that could be deal-breakers to some. You'll have to deal with mocking comments too about it being an iPhone knockoff. The question is how many of those mocking are secretly a little jealous.