Controls
The front of the Meizu MX3 features a 2MP front-facing camera, proximity and ambient light sensor and the tiny earpiece. Under the screen there's the capacitive Home button only.
The right side of the Meizu MX3 features no controls, while the left hosts the single piece volume rocker.
The power button is placed on the top right side, which is not the most comfortable position - with the Home key handling both lock and unlock this is nothing to fret over. The only other thing at the top is the 3.5 mm headphone jack.
The bottom is where the main microphone is next to the microUSB port for charging and data transfers.
At the back of the Meizu MX3, we find the 8 MP camera lens, the noise-reducing microphone and the single LED flash. There's a Meizu logo on the back and finally a small opening at the bottom for the loudspeaker grille.
Removing the back button, fiddly as it is, reveals the smallish in appearance 2,400 mAh battery. The battery cannot be removed or replaced.
15:9 FullHD display
The display on the Meizu MX is a 15:9 LCD with the resolution of 1080 x 1800 resulting in crystal clear 412ppi on the 5.1" diagonal.
Colors look great and sharpness is no issue. The viewing angles are also quite good, with the relatively high reflectivity the single noteworthy issue.
We took a picture of the display matrix under a microscope - the screen has an RGB matrix with the red, green and blue subpixels aligned in a typical fashion.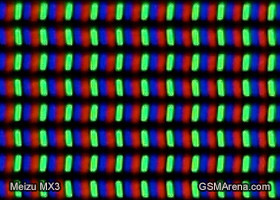 Meizu MX3 display matrix under a microscope
The screen on the Meizu MX3 showed good contrast and decent brightness levels throughout. It's nowhere near the top screens in business, like the HTC One or LG G2, but still looks quite pleasant and is sufficiently bright.
Display test
50% brightness
100% brightness
Black, cd/m2
White, cd/m2
Contrast ratio
Black, cd/m2
White, cd/m2
Contrast ratio
Meizu MX3
0.11
104
995
0.53
526
991
HTC One Max
0.14
224
1591
0.40
629
1572
Samsung Galaxy Note 3
0
149
∞
0
379
∞
Sony Xperia Z1
-
-
-
0.38
580
1513
Sony Xperia Z Ultra
-
-
-
0.47
467
1001
Sony Xperia Z
-
-
-
0.70
492
705
Huawei Ascend Mate
0.23
222
982
0.67
711
1053
Samsung Galaxy Mega 6.3
0.12
160
1364
0.32
440
1379
Samsung I9505 Galaxy S4
0
201
∞
0
404
∞
HTC Butterfly S
0.15
165
1117
0.43
451
1044
HTC One
0.13
205
1580
0.42
647
1541
Moving on to our sunlight legibility test, you can see how contrast suffers from the screen being exposed to strong light. The MX3 is very far from the likes of the Apple iPhone 5 or Samsung Galaxy Note 3, clearly not the best screen to work with in the sun.
Sunlight contrast ratio
Nokia 808 PureView
4.698
Apple iPhone 5
3.997
Samsung Galaxy Note 3
3.997
Samsung I9300 Galaxy S III
3.419
Nokia Lumia 925
3.402
Samsung I9505 Galaxy S4
3.352
Samsung Omnia W
3.301
Samsung Galaxy S
3.155
Samsung Galaxy S4 mini
3.127
Samsung Galaxy S4 zoom
3.118
Nokia N9
3.069
Samsung Galaxy Note
2.970
Sony Xperia Z1
2.950
HTC One S
2.901
Samsung Galaxy S II
2.832
Samsung Galaxy S II Plus
2.801
Huawei Ascend P1
2.655
Sony Xperia ZR
2.672
Nokia Lumia 900
2.562
HTC One Max
2.537
Nokia Lumia 720
2.512
HTC One
2.504
Sony Xperia Z
2.462
Samsung Galaxy S III mini
2.422
Motorola RAZR i
2.366
Samsung Galaxy Note II
2.307
Apple iPhone 4S
2.269
HTC Desire 600 dual sim
2.262
HTC One X
2.158
Nokia N8
2.144
Oppo Find 5
2.088
BlackBerry Z10
2.051
Apple iPhone 4
2.016
HTC One mini
2.003
LG G2
1.976
Sony Ericsson Xperia ray
1.955
Samsung Galaxy Camera
1.938
HTC Butterfly
1.873
Huawei Ascend P6
1.865
Sony Xperia V
1.792
Sony Xperia U
1.758
Meizu MX3
1.754
LG Optimus 4X HD
1.691
HTC One V
1.685
BlackBerry Q5
1.682
LG Optimus Vu
1.680
LG Optimus GJ
1.666
HTC Desire V
1.646
Sony Xperia Z Ultra
1.578
Samsung Galaxy Core
1.563
LG Optimus G Pro
1.552
LG Optimus 3D
1.542
Nokia Asha 302
1.537
Sony Xperia M
1.473
Nokia Lumia 610
1.432
Gigabyte GSmart G1355
1.361
HTC Desire C
1.300
Nokia Asha 501
1.270
LG Optimus L7
1.269
LG Optimus L9
1.227
Meizu MX
1.221
Sony Xperia E dual
1.203
Samsung Galaxy Pocket
1.180
Sony Xperia tipo
1.166
Samsung Galaxy mini 2
1.114
Battery life
The battery in the Meizu MX3 is a 2,400mAh Li-Po unit quoted at around 430 hours of stand-by in 2G and 393 hours in 3G. Official talk time figures specs are 12 and 14 hours respectively, with 40 hours of continuous music playback.
Our own tests revealed that the MX3's battery can't quite handle the ample screen and capable chipsets the way some of its high-end rivals do. The talk time endurance was good, and so were the web browsing times, but video playback disappoints. There's also very high stand-by power draw, which results in an overall unimpressive score of 36h.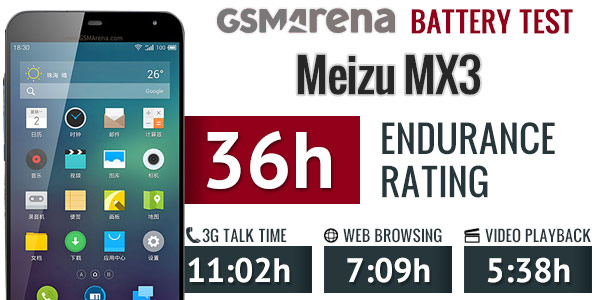 Meizu MX3 battery life test scorecard
Learn more about our batter testing procedures Next Page » 4. User interface