Display
The Meizu MX 4-core has a 4" screen, which given its 3:2 aspect ratio is noticeably bigger than the 16:10 and 16:9 four-inch competitors. However the new quad-core top droids comes with 4.7" to 4.8" screens, which dwarf the Meizu MX 4-core display.
The ASV LCD unit has 640 x 960 pixel resolution, which is the same as the Retina display of the iPhone 4 and 4S. That may've been impressive last year, but the competition has taken a huge step forward since. 720p is now the norm, so no one is going to be too excited about 288ppi (even though it's really as sharp-looking as it gets).


The screen is good, but you expect much more from a flagship these days
Normally the contrast is decent, but it drops rapidly as you start tilting the screen. Colors are good, but hardly as spectacular as those on the Super AMOLEDs and the best LCDs.Brightness and contrast are slightly better than they were on the original MX, but differences aren't huge.
Here are the brightness and contrast measurements for the display. You can find more about the testing procedures here.
Display test
50% brightness
100% brightness
Black, cd/m2
White, cd/m2
Contrast ratio
Black, cd/m2
White, cd/m2
Contrast ratio
Meizu MX 4-core
0.18
143
804
0.69
581
846
Meizu MX
0.17
123
740
0.56
396
708
LG Optimus 4X HD
0.34
369
1077
0.68
750
1102
HTC One X
0.15
200
1375
0.39
550
1410
Samsung I9300 Galaxy S III
0
174
∞
0
330
∞
Apple iPhone 4S
0.14
205
1463
0.52
654
1261
The sunlight legibility is nothing to write home about either as seen from our in-studio measurements. It's still slightly better than on the original Meizu MX thanks to the increased brightness.
Contrast ratio
Nokia 808 PureView
4.698
Samsung I9300 Galaxy S III
3.419
Samsung Omnia W
3.301
Samsung Galaxy S
3.155
Nokia N9
3.069
Samsung Galaxy Note
2.970
HTC One S
2.901
Samsung Galaxy S II
2.832
Huawei Ascend P1
2.655
Nokia Lumia 900
2.562
Apple iPhone 4S
2.269
HTC One X
2.158
Nokia N8
2.144
Apple iPhone 4
2.016
Sony Ericsson Xperia ray
1.955
Sony Xperia U
1.758
LG Optimus 4X HD
1.691
HTC One V
1.685
LG Optimus Vu
1.680
Samsung Galaxy Ace 2 I8160
1.566
LG Optimus 3D
1.542
Nokia Asha 302
1.537
Meizu MX 4-core
1.462
Nokia Lumia 610
1.432
Gigabyte GSmart G1355
1.361
HTC Desire C
1.300
LG Optimus L7
1.269
Meizu MX
1.221
Samsung Galaxy Pocket
1.180
Samsung Galaxy mini 2
1.114
We zoomed into the display using our digital microscope so you can get a better idea of how the pixels are arranged, and how big they are. As you can see the pixels are about as big as those on the HTC One X, which suggests about equal perceived sharpness.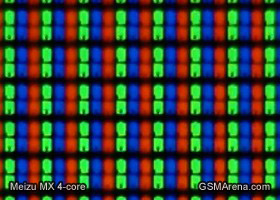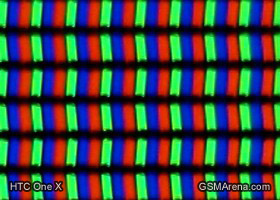 The Meizu MX 4-core display pixels compared to those of the HTC One X
Handling
The Meizu MX 4-core is comfortable to hold in the hand - it's not too big, too heavy or too thick. We wish the phone had higher quality finish and more secure grip, but if you can get over that (or are going to use a case/pouch) there are no complaints about the build quality.
While it has its flaws, the hardware of the 4-core should get the attention of serious buyers. Having tried the original Meizu MX, we know the software has its way to impress too. The highly customized FlyMe OS is coming up, followed by the usual round of benchmarks, which should allow the Exynos 4212 Quad to flex some muscle.