Meizu just announced a quad-core version of its MX smartphone, running Android 4.0 Ice Cream Sandwich. The handset will carry the name Meizu MX quad-core, and will bring several improvements to go with the new silicon.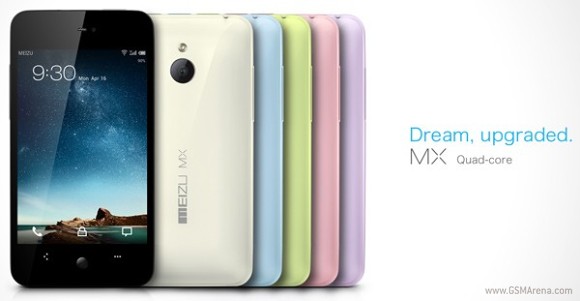 The CPU of in the updated device will be a 32nm High-K Metal Gate, quad-core Samsung Exynos chip, featuring four Cortex-A9-based cores. Curiously enough, there is no info on the clock speed of the aforementioned.
The battery of the newcomer has been beefed up as well. It is now a 1700mAh unit. Also, to make the quad-core version stand out from its predecessor, there is a range of new colors for its back cover. This means that you can have your quad-core beast in five colors of your choice.
The OS on tap will be Android 4.0 Ice Cream Sandwich, customized by Meizu, and carrying the name Flyme OS. The rest of the specs in of the new device are unchanged from its predecessor. You can see them right here.
The Meizu MX quad-core will come in a 32 and 64GB versions. They will be priced in China at the highly attractive ¥2,999 (US$480) and ¥3,999 (US$635) respectively.
C
When launch in malaysia? I wan buy.
?
IPhone copied Samsung F700 design... What you have to say now? Also LG Prada released before IPhone,,,, apple's IPhone copied the design too So please shush
?
IPhone copied Samsung F700 design... What you have to say now? Also LG Prada released before IPhone,,,, apple's IPhone copied the design too So please shush
ADVERTISEMENTS