Final words
Meizu Pro 5 is a perfect mixture of high-quality materials, a great display, a fast chipset and an excellent camera. This is the best Meizu smartphone to date, with blazing-fast performance, close-to-perfect imaging skills and premium design and handling. It comes with so few compromises that you can easily tell it's flagship grade from head to toe.
The Pro 5 is based on Samsung's famous Exynos 7420 SoC, the powerhouse behind the entire Galaxy S6 lineup, which proved to be the best chip among the Android smartphones right now. But in addition to the chart-topping performance, the Exynos 7420 offers amazing energy-efficient skills, which provide for an incredible battery life across all of our tests.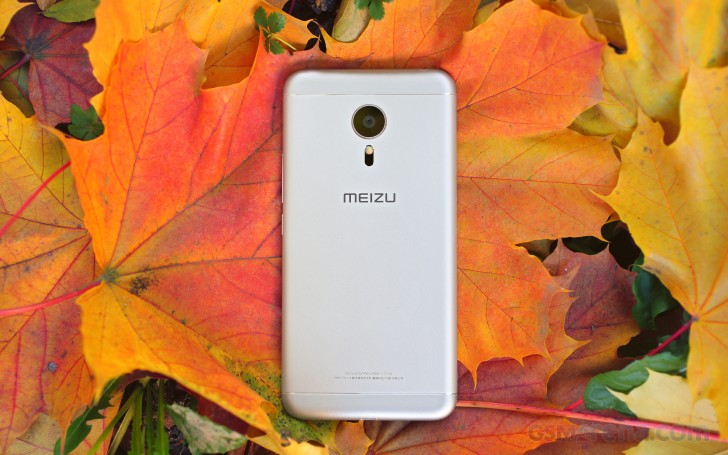 The Meizu Pro 5 keeps everything that made the MX5 such a great device and improves on it - the all-metal design shell has been complimented with a 2.5D Gorilla Glass 3 shield, which automatically boosts the looks. The metal keys, rounded frame and chamfered mirrored edges are all something to love in the Pro 5.
And there is the new 21MP Sony camera sensor, which Meizu utilized so good that it outs nearly perfect still images no matter the light and weather conditions. Sure, the video recording could have been better, but we can forgive the compression artefacts in the 4K videos for the overall well-shot 1080p ones.
The Flyme launcher has always been simple and yet quite powerful for the advanced users and it keeps its legacy in the latest Flyme 4.5 and the upcoming 5.0 version. We are glad Meizu is sticking to its Flyme roots and skins the Android completely thus providing a lightweight and easy to use interface.
Meizu Pro 5 key test findings
The Pro 5 offers great build quality, solid metal construction and nice 2.5D glass;
mTouch home button is the most practical home button we've seen - accepting fingerprint reading, presses and taps;
The screen isn't as bright as we would have liked but color rendering and contrast are spot on. Viewing angles and sunlight legibility are good as well;
The battery endurance rating of 95h is excellent, and it keeps up the great endurance even when you put a second SIM card inside;
Flyme OS is fluid and responsive, unlocking gestures are just as good here, mTouch button has some great added functionality (closing apps, going into previous menu). Great customization options via themes;
The Exynos 7420 chipset offers unmatched flagship-grade processor and graphics performance, even with the 3GB version we're reviewing;
Video player has very good codec support and seamless 4K video playback;
Great audio quality with outstandingly high in-headphone loudness;
Great still camera performance with amazingly high level of resolved detail and very wide dynamic range, and overall sharp and detailed images with mature processing, superb low-light scenes;
Disappointing panoramic images, unimpressive selfies;
The 2160p videos offer great detail have visible blotchy compression artifacts, which may as well be a HEVC codec issue as the HEVC codec is not compatible with YouTube and most of the common players;
The 1080p videos have a wider field of view and look better than the 4K samples, without noticeable compression artifacts.
Meizu Pro 5 goes at about €450 for the 32GB model and €500 for the 64GB one, which is not exactly cheap, so it may pay off to explore the available competing offers. The €300 OnePlus 2 is the first one to pop in our minds - it relies on a 5.5" 1080p display and runs on the Snapdragon 810 chip with either 3 or 4 gigs of RAM, which translates into a blazing-fast performance. Its camera department is rich in features but fails to impress with quality though.
The LG G Flex2 has a 5.5" AMOLED display of 1080p resolution, it's curved and there is a self-healing coating on the back. It still feels unique in hand and has the flashy paintjobs to go with it. The Snapdragon 810 chip is also in charge of operations, while its 13MP OIS camera is very capable. The selfie department is lacking though, but it's also about €200 cheaper than the Meizu Pro 5, so there is that.
The previous Meizu MX5 is a bit more compact and almost identical in design, and keeps the good performance and camera quality, but not the battery life. It has an IR blaster and can be turned into a remote for all home appliances, but lacks the USB Type-C port (which might be consider as a plus a year from now). It's a tad cheaper and some fans may find it more attractive because of its smaller footprint.
Meizu Pro 5 is a like a dream come true for many - a premium design, an AMOLED screen, one of the best chipsets on the market and one of the best still cameras there is right now in a smartphone. While the video recording is far from impressive, the battery life, performance, software skills and connectivity package are top-notch. Recommending one comes easily, but perhaps getting one may be a challenge as Meizu doesn't have a distribution network of its own and instead relies on third-party distributors to get them outside of Asia so your mileage with the after-sale support experience and the language localizations in well developed markets may vary.
Special thanks to HonorBuy.com for providing the review unit.