Cute clumsy penguin
Meizu Pro 5 Ubuntu Edition review: Cute clumsy penguin
Telephony and messaging
So, we established that Ubuntu Touch offers a pretty, but not so user-friendly experience. The occasional stutters and hit and miss update system on the Meizu Pro 5 don't help either. But what about apps, how functional is the OS? Well, thanks to a lot of hard work from Canonical, all the basics are covered, but sadly, barely anything beyond that. And we do mean it.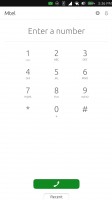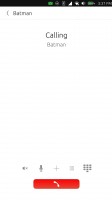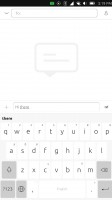 Calls and messages on the Meizu Pro 5
Calls work fine, as expected and so do messages. Nothing special really. The same goes for contacts. The Meizu was a little hesitant to read the SIM contacts, but managed to pull through eventually. It is also a nice touch to see Google contacts import, which is kind of vital at this point.
The Meizu Pro 5 Ubuntu Edition held on to signal pretty well, just like its Android counterpart. We also found the speaker to be nice and clear and exactly as loud as the one in its sibling.
| | | | | |
| --- | --- | --- | --- | --- |
| Speakerphone test | Voice, dB | Pink noise/ Music, dB | Ringing phone, dB | Overall score |
| Samsung Galaxy S7 | 66.5 | 62.1 | 66.2 | Below Average |
| Meizu Pro 5 Ubuntu Edition | 67.7 | 66.6 | 68.7 | Average |
| Xiaomi Mi 5 | 66.9 | 67.2 | 74.0 | Good |
| Samsung Galaxy S6 | 68.1 | 66.3 | 73.7 | Good |
| Meizu Pro 6 | 66.6 | 66.5 | 75.7 | Good |
| Meizu MX5 | 75.7 | 73.5 | 79.5 | Excellent |
Speaking of Google, perhaps this is as good a time as any to mention that there is practically no support for Google services on Ubuntu Touch (other than the aforementioned contacts import, of course). The Meizu Pro 5 does come with an app titled Gmail, but it is nothing more than a shortcut that opens up to web interface. We searched around for other third-party alternatives as well, but the story is pretty much the same with all Google services - the best you can hope for is an app with convenient shortcuts to websites.
Still, e-mail is not a drama, as there is the popular Dekko client thrown in the mix and you can just add your Gmail account there. Or any other IMAP, SMTP, POP3 account for that matter.
Other apps
Sadly, the web interface approach is not exclusive to Google by any means. The default selection of apps on the Meizu Pro 5 does deceitfully also include things like Facebook and Ebay. Both, however, as you probably already guessed, are nothing more than dressed-up website shortcuts.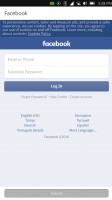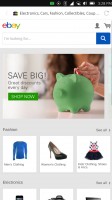 Facebook and Ebay and many other services rely on web interfaces alone
It is, at least, encouraging to see that most native apps that Canonical had involvement with tend to work and look nice. The gallery is stable and definitely usable, although a bit basic in its functionality.
Mostly the same goes for the default browser. Still, we had no rendering or performance issues whatsoever using it, so it is reliable.
Interestingly enough, most small apps within Ubuntu Touch seem to be really polished. The clock and alarm app and calculator all work as expected and look the part.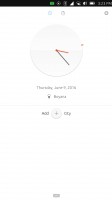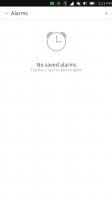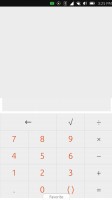 Clock, alarm and Calculator app
Canonical seems to have invested a lot of time in the Calendar and tasks app in particular. Both offer an impressive set of options, especially for setting reminders. There is also support for importing Google calendars - another nice little touch.
Notes are equally impressive, but this time around with support for integration with Evernote.
The weather app also deserves a shout-out for its attractive design.
For maps, you actually get two options out of the box. Here maps is one, but it seems to have some issues. uNav on the other hand looks and works great. It is smooth and even has voice navigation.