Cute clumsy penguin
Meizu Pro 5 Ubuntu Edition review: Cute clumsy penguin
Benchmarks
As you can probably guess by now, finding usable and relevant synthetic benchmarks for an OS that essentially has only a single set of bare-minimum apps to cover essential functionality is, if not impossible, nearly close to being so.
Still, there is always web performance to evaluate and we did try our best. Mozilla's Kraken 1.1 (JavaScript) managed to run to the end and actually gave a respectable score.
Kraken 1.1
Lower is better
Apple iPhone 6s Plus
1731
Samsung Galaxy S6 edge+
3767
Meizu Pro 5
3907
LG G Flex2
4621
Meizu Pro 5 Ubuntu Edition
4626
LG V10
4666
Sony Xperia Z5
5635
OnePlus 2
6808
Meizu MX5
11414
Oppo R7 Plus
11908
Testing on BrowserMark, on the other hand, was quite bad so we're not going to post the results here. It must surely be some sort of an incompatibility or a bug to blame.
Well, so much for benchmarks. You really only need a couple of minutes using the Meizu Pro 5 Ubuntu Edition to gauge its performance first-hand - it's frustratingly slow by current smatphone standards. Most apps, even the most basic ones like the clock and calculator, can take up to 10 seconds to load up.
But, even if you are ok with waiting times, there is still the issue with the extremely limited app selection at this point in time.
We already covered voice calls, texting and emailing, but what about instant messaging. We tend to use Skype a lot as well as Google Hangouts, sometimes WhatsApp and of course Viber. Well, none of these has a native client available. Of course, there are the web versions of said apps, but that means no notifications and worse yet, Viber is a no-go entirely.
Well, how about some music while on the go. Naturally, there is a Music player for locally stored music, courtesy of Canonical and it works and it looks great.
What about streaming? Spotify? Pandora? Google Play Music? No, there is none of that... But, oddly enough, there is something in the Ubuntu Store simply called Cloud Music. It crashes from time to time, but when it does work, we were able to find and play almost anything we could think of, complete with album art and metadata.
Fancy a quick YouTube video? Well, there is a YouTube app, actually quite a few, but even the official one seems to be a Webview for the website itself and it also tends to hang and crash a lot.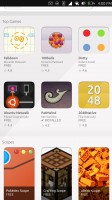 Games on the Meizu Pro 5 Ubuntu Edition
Even if we stop here, the conclusion seems pretty obvious. However, in a last attempt to find a silver lining to this cloud, we decided to check out how games are on the Ubuntu Touch. Honestly, in one word, the games are of the most basic type. And we'll just leave it at that.