Leaks give an impression that Apple has tried a thousand different places to put the fingerprint reader on the iPhone 8, now that there's no room for it on the front. The most recent leak places it in a surprising – yet familiar – location.
Metal blanks show a round hole just under the Apple logo – clearly meant for the fingerprint reader. The metal blanks we saw earlier were in a rough shape and lacked such detail.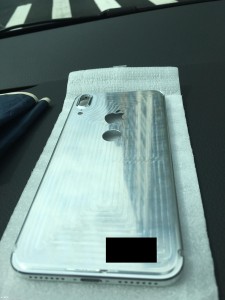 Metal blanks (allegedly) of the iPhone 8 frame, showing a rear fingerprint reader
Two glass panels from the iPhone 8's back showed no such hole. Actually, glass backs are incompatible with this all-metal frame at all! And case makers have not mentioned anything of the sort either, that's an important detail they would have to know (lest they cover it, making it unusable).
So, for now we think that the authenticity of this leak is questionable. Still, a round fingerprint reader on the back is what most Android makers are doing – can a large Power key be a better place? Under the screen would be ideal, but many sources question the technical possibility of that.
R
Very True they can be use apple logo as scanners
B
No, You can't touch that. It's a crime.