Today, we've finally seen a major change since T-Mobile acquired MetroPCS way back in 2013. At the time, MetroPCS was a CDMA network whose bandwidth was slowly recommissioned to improve T-Mobile's own towers. The transition made it so Metro PCS customers were connected to T-Mobile's improved network but both T-Mobile and Metro PCS would remain separate brands.
Today, T-Mobile announces that Metro PCS will now be called "Metro by T-Mobile". Along with this re-branding, Metro is updating its rate plans by replacing its tiered data plans with two main unlimited plans starting at $50 ($60 for the higher-tiered one). Presumably, those on cheaper tiered plans will remain grandfathered to these plans. We've reached out to T-Mobile for clarification.
Metro will also be offering high-end devices like iPhones and Samsung Galaxy phones. However, it's not clear if Metro will begin to offer finance options or subsidized pricing or if customers will have to plop down a huge sum of cash for the latest device.
The $50 plan comes with 5GB of LTE tethering, Google One, and unlimited data. The higher-tier $60 plan comes with 15GB of LTE tethering, and also bundles an Amazon Prime membership. Considering that the regular membership costs $119/year, paying for it via your phone bill is just more convenient in our eyes.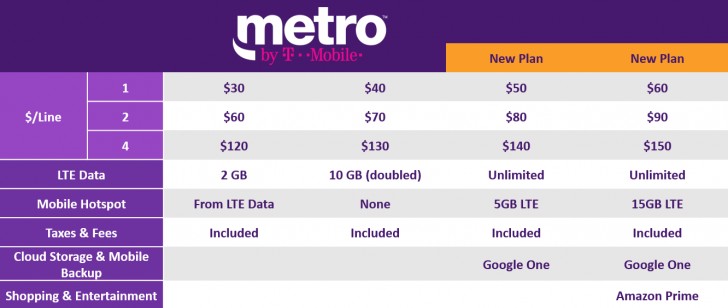 Metro by T-Mobile is the company's latest "That's genius!" campaign for getting AT&T and Verizon customers to switch to prepaid and save. T-Mobile says there's a common misconception of prepaid networks in the US market which are synonymous with crappy phones, limited coverage, and bad credit and it hopes that Metro will put these misconceptions to rest.
Metro is a great option for T-Mobile customers who need an unlimited line and don't want to pay the $70 it costs to get an individual T-Mobile One line. $50 also includes taxes and fees so there aren't any surprises.
What was your opinion on MetroPCS and has it changed with the rebranding and new plans? Do you know someone these plans would be good for?
?
Okay so just found on Wiki - date is Oct 8th.
?
So what date are these new enhanced plans to take effect? Website does not reflect it yet. Everywhere I read says this re-brand took place on the Sep 24th but nothing specific on the former.
D
Is that a question or a statement that refers to yourself?