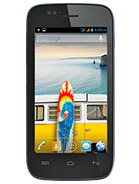 Z
Bolt a47 is awsome smartphone. Support hd games, hd videos, good sound quality
only the problem is, betry bckup is poor & also not suprt Youtube. Good phone
?
Hi this is Prem, its very nice mobile. If you have low budget, it will be affordable for you. The phone has good internet speed. But headphone quality is poor.
&
I dont have the phone. I think that the phone
looks cool but 2 MP camera and its only dual-band (when most smartphones are quadband) i think it lacks some specs.
p11
The viewing angles are also poor. But android 4.2 makes up a lot.
P
Good look and feel for this price. But the battery and camera are total disappointments. Really bad.
Buy if only you have a limited budget. Go for a Samsung or anything else if you can afford.
j
worst mobile ever used.......
very lagging....... no games for this mobile,worst camera.....nokia is better form this..... no 3g,decent screen, poor loudspeaker,
Total of 208 user reviews and opinions for Micromax A47 Bolt.