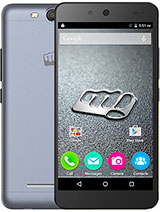 S
I am being using Micromax Juice 3 since last two weeks......awesome phone! camera quality is too good, i only wish if it could had come with atleast 16 GB internal storage, otherwise the phone is really awesome.
G
I bought my Juice 3 Q392 3 days back. I'm writing down here my experience of three days with this phone. Since im coming from Android and my last phone NOKIA 7210 SUPER NOVA, my experience may be useful to those who are looking forward to come from ............
I was more inclined towards buying galaxy edge or edge plus. However since I was already using android I thought it's better to invest in something which feels totally different. i visited a local apple shop to see iPhone and I liked the rose gold color and 3d touch so ended up buying Juice 3 Q392. I was looking to buy a phone with large screen because I play a lot of games and frequently use my phone for reading. So here's my experience.
First. This phone is big and heavy. It's not easy to carry it around the way I used to do with my nexus. But the phone feels really sturdy. User experience is great. It's different and better than android but not substantially. The biggest advantage Juice 3 Q392 Is that you feel good to think that you possess the most expensive phone In the market and feel proud while showing it off to your buddies. Otherwise The price difference between nexus and iPhone 6s plus cant be justified.
Gaming on this phone is real fun. Games load almost 3 times quicker than nexus 5. However there's not substantial difference in graphics.
Web Browsing isn't impressive. It's either at par with nexus or slightly worse because I noticed multiple websites behaving bit strangely where html text used to disappear and I had to select text somewhere on the page in order to make the vanished text reappear. But this may be due to some bug with safari.
Camera performance is definitely great. Nexus 5 can't reach its quality. 4k video quality is unprecedented. Battery life is acceptably good. One shouldn't complain about it. It's definitely not outstanding. 3d touch is great and something really new but I haven't been using it market it's something you can't see with your eyes so while using the phone I don't have in mind that something like that really exists. It needs some time to get used to it.
Overall a great phone. I'm loving it. It may not however seem such a big upgrade for those people who are already using MICROMAX COMPANY.............. ANY PROBLEM CONTACT +918895182506 TOLL FREE
Total of 203 user reviews and opinions for Micromax Canvas Juice 3 Q392.