Google and Micromax are bringing a $32 Android Go phone to India this month
We knew that Android Oreo (Go Edition) will enable some highly affordable phones but we didn't expect prices to go this low – INR 2,000 or $32/€26! Google has already partnered with multiple phone makers that operate in India and expects the first phones later this month.
Micromax will be delivering said $32 phone by the end of January, but more vendors are on board with producing low-budget Go phones – Intex, Lava, Karbonn and others (carrier Jio may be working on something too). Their handsets should target the same price range.
These Android Go phones are great for consumers on a tight budget – who can finally switch away from feature phones – and the local manufacturers as well. Their market share has fallen to around 15% (from 50% two years ago) due to pressure from Chinese brands. And it's good for Google too, which has a revenue of over $1 billion in India.
Half of all phones sold in India, be they smart or feature phones, are under the $32 mark. The Go phones, however, will have the advantage of a true and pure Google experience.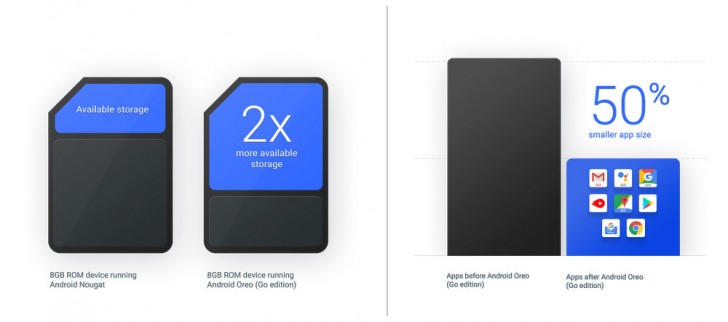 The search giant went to great lengths to ensure Android runs well on such phones. They will have 1GB of RAM (or even half) and as little as 8GB of storage – dedicated slimmed-down versions of Google's core apps make this possible. Chip makers Qualcomm and MediaTek are helping optimize their chips for the best Go performance too.
?
My friends 10yr old has iphone 8, ok grandpa lol...These go phones sound cool and amazing price by google!!!!!!! The apps are great like Facbook lite messenger.
A
So Android Go is essentially the new iteration of Android One
D
You mean more than half. This isn't America where waitresses have cars. This is a country where people leave and go to America, or Canada, or Australia, or Philippines, or Singapore, or UAE to work or migrate.
ADVERTISEMENTS