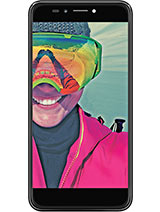 U1
Normal usb cable is not compatible for this phone which type of usb cable is compatible for this phone
m
Anonymous, 01 Aug 2017Everything is far good except the chipset. If u use SD435 or SD430 it could be a great phone ... moreBro don't be in wrong impression,
Let me explain:
I own both Moto G5 and Moto C plus .
G5 with SD430 and 3GB RAM whereas C plus Meditek with 2GB RAM.
Believe me G5 hangs more times than C Plus
i also visited Moto service center twice but no result
?
Everything is good but I'm experiencing screen malfunctioning.. It has been 3 weeks since I have bought this phone.. And I'm disappointed!
j
Selfie 2--Which of the Chinese re Brands has been chosen this time?!
?
Everything is far good except the chipset.
If u use SD435 or SD430 it could be a great phone in this price bracket.
And I don't know why they use better thing in YU then Micromax.
M19515
I don't know when this cheap mediatek 6737 chipset will die better if they choose HelioP20
H
PKM1, 31 Jul 2017It's a good set just released in India at around Rs 10k. Should give good competition to the v... moremt6737 quad core 1.3
it hardly can play any shit
C121390
Phone looks good only problem is 3000 mAh battery on 5,5 inch screen and only quadcore and low.
Total of 14 user reviews and opinions for Micromax Selfie 2 Q4311.