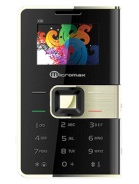 m
its okkkk.....but u ppl were ought to provide atleast mp3 playrs n camera.....
G
sunny dhallwani, 11 Jun 2010sexy phone like sexy girlssay what?????????
M
Well this one for the peoples who are criticizing this phone actually the company cant bring u all facilities on 1250 INR.
I am telling u this phone is good,got smart look,looks damm... sexy in girls hand. and yes I impressed my girlfriend from this phone only . thank you micro-max.
G
i am having it ...it does not have 35mb memory...no mp3.Fm signal poor.......its very worst fone....try fly s110 its better than x111....poor battery backup.too........plez dont buy this
G
Mike, 10 May 2010That phone's designed by ODM / Umeox ShenzhenThe design is horrible and my watch's dial is bigger than the screen size
Total of 53 user reviews and opinions for Micromax X111.
ADVERTISEMENTS