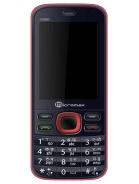 p
2 things i liked bout this Phone is
1. Battery is long lasting..
2. Speakers Sound quality..
l
very bakwas phone i have usud for 3 months no good camera nor vdo but one thing is very good i.e its music system is excelent.
j
very baaaaaaaaaaaaaaaaaaaaaaaaaaaaaaaaaaaaaad mobile and no good games
R
Have used for 2 months, very bad camera and vdo, suggest all not to buy --very very lousy phone and very expensive
R
Bad
Bad
Slow Response
Does not support images with size>50kb
Response is really very slow....
problem in opening back cover....
S
I used it for 3 months and i happy to get rid of it.It has numerous problems:

1.Slow response.
2.Hard/Bad Keypad.
3.Ordinary Chinese type Earphones.


G
Shadow86, 13 May 2010Very bad mobile. No reason provide? how it's bad, what area it lacks & what problem do you find?

Thanks
a
we have an Indian company on GSMArena!!!
Total of 29 user reviews and opinions for Micromax X260.