Microsoft has announced its two new flagship devices, the Lumia 950 and the Lumia 950 XL in the Indian market. Both phones will be available in the dual SIM configuration.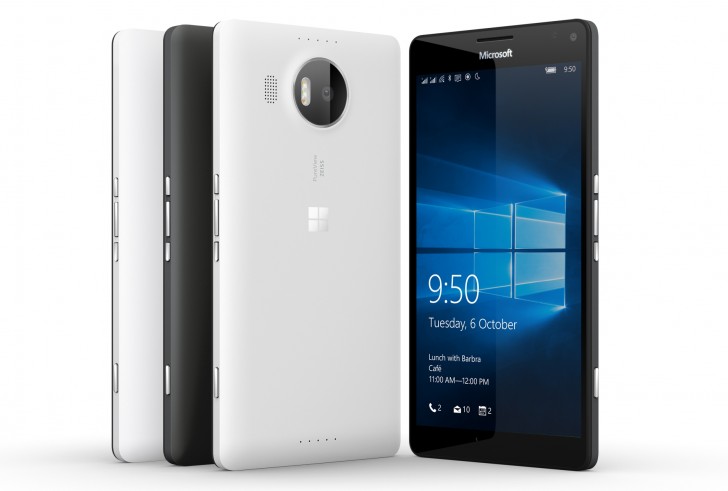 The 950 duo are the first phones from Microsoft running the new Windows 10 operating system out of the box. This allows them to run the same applications that you can on your Windows 10 desktop through the Window Store, and also make use of features like Continuum, which allows you to connect your phone to a dock and use it as a makeshift Windows desktop PC.
The Lumia 950 has a 5.2-inch Quad HD AMOLED display, Snapdragon 808 processor, 3GB RAM, 32GB memory, 20 megapixel camera, USB Type-C with fast charging, wireless charging, and 3000mAh battery. The Lumia 950 XL is mostly the same, but has a larger 5.7-inch display with identical resolution, Snapdragon 810 processor, and a larger 3340mAh battery.
The Lumia 950 is priced at INR 43,699 ($654) and the Lumia 950 XL is priced at INR 49,699 ($743). Both come with Microsoft Display Dock as standard.
D
Guys iam just back from new York...the trip was great....just back and my Lumia 950 white arrived from amazon white color...I brought surface pro 4 from new York and totally lovin it... I saw the Lumia 950 in new York there also prices after taxes ...
D
Bro from mozo.com...buy from its site...
A
you are getting the 5k quote by ReGlobe, not amazon. Amazon is offering a gift card of 3k for selling your old lumia on ReGlobe. That results in 8k for the 1520 which is now close to 2 years old? If you find a better price to sell your 2 year used 15...