Most Windows 10 adopters tend to feel right at home with Microsoft's latest OS and should, by design, hardly feel any major difference. However, Windows 10 is undoubtedly the biggest update the platform has seen in a while, if not ever and the most colossal change to users and developers alike comes from the push towards a more versatile and universal core, running across a wide range of devices and compatible with as much code as possible.
As part of this ambitious move towards building a truly Universal Windows Platform, last April Microsoft announced its intention to support quick reuse of both iOS and Android code for creating universal apps. Naturally, the major undertaking was riddled with uncertainty from the start and recent developments have now pushed the PC giant to put Android support on hold.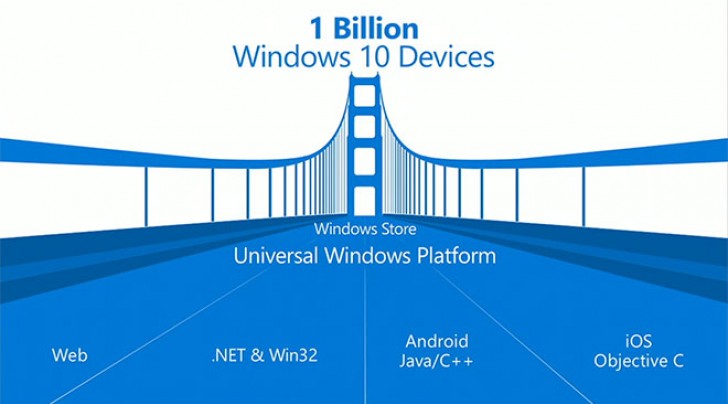 There hasn't really been any official statement on the matter yet, but Microsoft has been persistently hinting that Android support, dubbed project Astoria, is now on hold and could remain so indefinitely.
Instead the company is focusing on the iOS migration tools, which have shown more promise in playing nice with Window 10. Major security and optimization problems have been cited. Also, the Windows Bridge for Android has been called a "quick fix" to broadening the new Windows ecosystem and developer base, which, apparently didn't quite work out as intended and "is not ready yet".
Still, Microsoft has avoided words like canceled or abandoned, so there might still be hope. Here is the whole statement.
We're committed to offering developers many options to bring their apps to the Windows Platform, including bridges available now for Web and iOS, and soon Win32. The Astoria bridge is not ready yet, but other tools offer great options for developers. For example, the iOS bridge enables developers to write a native Windows Universal app which calls UWP APIs directly from Objective-C, and to mix and match UWP and iOS concepts such as XAML and UIKit. Developers can write apps that run on all Windows 10 devices and take advantage of native Windows features easily. We're grateful to the feedback from the development community and look forward to supporting them as they develop apps for Windows 10.
While this whole development is slightly disappointing, it might also be for the best, as hardly anybody wants Microsoft to bite off more than it can chew and potentially jeopardize all the progress it has been showing with its new universal Windows approach and flexible, open development cycle.
Also, we doubt a lot of preexisting developer work and support has been lost, as the Windows Bridge for Android has been absent from Windows 10 insider builds for smartphones for quite some time now, so this new step is hardly a surprise.
D
Its time the Google to write his own OS for desktop. Based on Linux. No monopoly ! I don't use anything except Android Studio or NeatBeans. Or just Google can purchase great OS like Solaris.
S
I laugh at all the speculation here. The real reason why Microsoft doesn't want to support an Android runtime environment, is because developers could just develop for Android only, and then their apps would not only work with Android devices, but ...
D
Side load apps is the base of Piracy, and thats the only thing for Android users to love that OS, they dont like to pay anything, kinda parasit, sad but true...
ADVERTISEMENTS