Just two days ago Microsoft announced a new trade-in deal for the US and Canada, which can give you up to $250 of store credit if you give up on your old smartphone or tablet. Today Microsoft has extended this deal with a special offer.
If you opt to return your old Apple iPhone 4, iPhone 4S or Samsung Galaxy S II, you can have a Lumia 1020 or Lumia 1520 for free. Your old phone just needs to be working, with no missing parts or pieces. The deal expires on March 2, or until supplies last.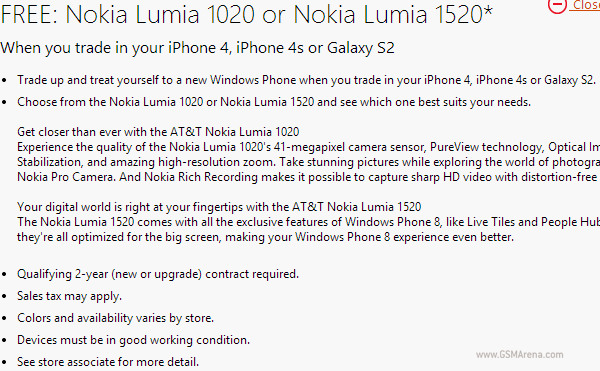 The catch is that you'll have to sign a two-year contract with AT&T, to get the free Lumia unit. Lumia 1520 otherwise costs $200 on contract, while the Lumia 1020 has already dropped down to just $100 on a contract.
Anyway, if you want to trade in your old gadget for a new Windows-based one, feel free to explore all deals throughout the US and Canada before making a decision.
a
is this offer available in pakistan
D
Best deal ever, 'cause whoever created the iPhone ought to be terminated. Oh wait, I have been... :D
D
HA I am still using my Galaxy S i897 unlocked in Australia with almost no issues! What's wrong with a Galaxy S? I don't know what the guy you were replying to was talking about, and I didn't really get your message either. but the Galaxy S was m...