Microsoft is working on an iPad Touch Cover, official document reveals
Here's an interesting idea: how about a Microsoft Touch Cover for that iPad? Does that sound far-fetched to you? Well, it definitely doesn't to Microsoft, because through an official document relating to lithium battery transport information it has confirmed that it is working on such an accessory.
There's a small catch, however. Said document (a relevant excerpt of which you can see below) dates back to April. So there's a chance that the project has since been scrapped. Let's assume it hasn't, just for argument's sake, and see what a Microsoft-made iPad Touch Cover might entail.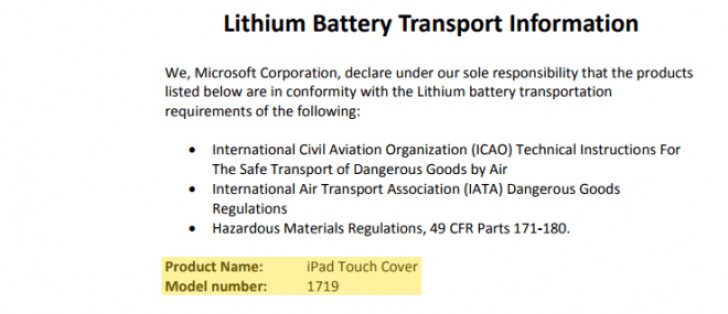 Given the name used, we tend to believe the accessory would be very similar in shape and function to the Surface Touch Cover from years past. That was just 3mm thick and used pressure-sensitive technology to deliver a full multi-touch keyboard.
The iPad Touch Cover has a battery, the aforementioned document reveals, which means it's probably going to connect to your iPad via Bluetooth. That pretty much excludes it from being an accessory made for the iPad Pro line, because it would have been much more logical to use Apple's Smart Connector in such a case.
So it's likely that Microsoft's accessory is meant for the base iPad, for which Apple doesn't sell its own keyboard. Perhaps Microsoft considers this to be an exploitable vulnerability of its competitor's current product line. We'll have to wait and see if this device ever does become reality.
S
I am quite sure they saw big opportunity in how bad the iPad keyboards are, and how good the Surface ones are. I wonder if they decided to carry on with it though, as from marketing perspective it could be a mixed bag.
D
If this turns out to be true, I think it will have their Microsoft's new Alcantara design.