And so ends Microsoft's brief spell as a phone manufacturer. The company has just announced that it's terminating its KIN line and focusing all of its resources on the development of their upcoming Windows Phone 7 OS.
Here comes the official statement:
"Microsoft has made the decision to focus on the Windows Phone 7 launch and will not ship KIN in Europe this fall as planned. Additionally, we are integrating our KIN team with the Windows Phone 7 team, incorporating valuable ideas and technologies from KIN into future Windows Phone releases. We will continue to work with Verizon in the U.S. to sell current KIN phones."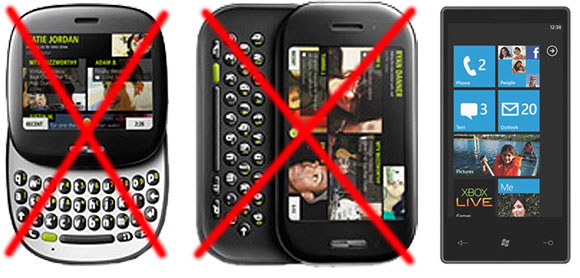 So the KIN duo never lived to see it GSM-supporting versions become available. It only made it to Verizon's CDMA network in the US (where it has been available for just under two months), but its sales didn't even reach 10 000 units milestone.
After that and the universally negative reviews that the KIN handsets got after their release it's hardly a surprise that Microsoft decided to give up on it. When you spend so much time and effort (and mostly so much money) and you end up with a product often described as one of the biggest flops in history, simply giving up seems the right thing to do.
Trying to bring the project back on the right track would be a really demanding task (if at all possible with so much catching up to do) and Microsoft simply cannot afford to waste resources on it. Not with the Windows Mobile OS market share dropping into irrelevance and its future hanging by a thread.
With the fierce competition from Android and iOS, Windows Phone 7 has to be (close to) perfect to regain some of the past glory of the Microsoft smartphone platforms. So if dropping the KINs is what needs to be done to make it perfect, we wholeheartedly support the Redmond-based company on this decision.
But they should know that now that they've put all their eggs in the WP7 basket a failure will basically make them the next big company to exit the smartphone market. It will be pretty interesting to see how this one unfolds.
P
In my Opinion I somehow strongly feel that WP7 would be a huge hit like Windows 7 (after Vista), XP-SP2 was a great HIT after windows XP. windows 98 SE was a great HIT after Windows 98. there is a long list like this ZUNEHD is an awesome product ma...
J
Microsoft should have listened to every review site/tech blog and focused on the Courier instead. I remember when both of the Kin and the Courier were announced, and almost everyone seemed way more interested in the Courier. Apple is doing qu...
?
Good Riddance to bad rubbish... if u want o knw y... jst google about kin the social phone minus social...
ADVERTISEMENTS