The Lumia 530 just got a promotion – the new Microsoft Lumia 435 and Lumia 435 Dual SIM are the new WP entry level. The base model starts at €70 and knowing how these low-end Lumias love to go on sale it will probably cost as much as a cup of coffee before long.
The Lumia 435 keeps the a 4" LCD screen (480 x 800px) of the 5xx series. The phone runs Denim-enhanced Windows Phone 8.1 on a Snapdragon 200 chipset with a dual-core processor and 1GB of RAM. That's double the RAM of the Lumia 635, though only half the cores. And you start with 8GB of storage (expandable with up to 128GB cards).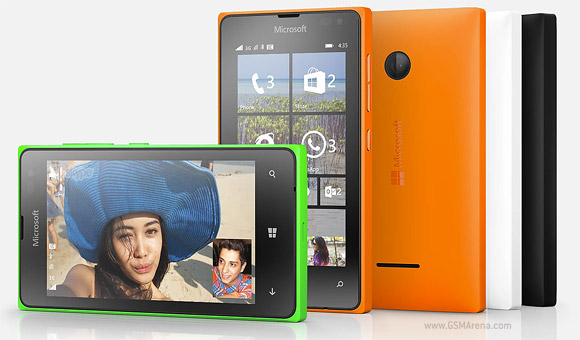 One corner that Microsoft cut is the camera – the main camera is a 2MP fixed-focus snapper that records 480p video at 30fps. There's a VGA front-facing camera (the Lumia 635 has none). The Lumia Camera and Lumia Selfie apps come preloaded.
The Microsoft Lumia 435 weighs 131.9g and comes with a 1,560mAh battery, good for almost 12 hours of talk time., 21 hours if you're on 2G. The phone boasts 42.2Mbps downlink speeds over 3G, which is about as good as it gets pre-LTE.
A-GPS and GLONASS are available for HERE Drive+ to take you anywhere around the world, no data connection necessary.
The Microsoft Lumia 435 and Lumia 435 Dual-SIM will be available in February in select countries in Europe, India, the Asia Pacific, Africa and the Middle East.
D
for those who dont like wp why do you even come here and comment and say this is shit and stuff like that? really guys if u like android so much go and buy it and after a year, when it will start to move slow, buy another one cuz u like it and so on....
s
again a horrible ph. again a junk crap. it will hang like hell. no flash fixed focus will be flop again. samsung allwayes rockz. tizen z1 is far far far better then this bullshit. ttthhhuuuu
D
This is not Android. Should be smooth with dual core and 1GB of RAM on Windows Phone. Lumia 900 was a beast with single core and 512MB of RAM. No lag. Windows Phone is optimized for speed by using only Snapdragon SOCs.