Two weeks after its announcement, the Microsoft Lumia 435 is now available for pre-order in the UK. The phone is offered by Amazon and costs £88.49 SIM-free and is offered in Black, Orange and Green. Actual shipping date has also been confirmed - a month from now, March 1.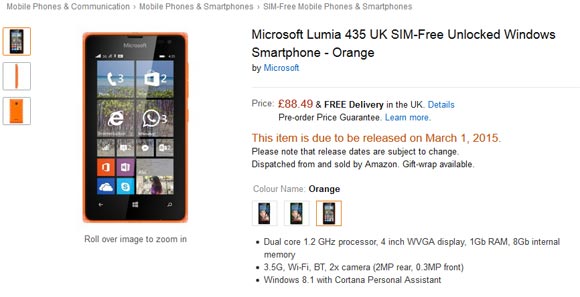 Microsoft plans to make the phone available throughout February in more countries in Europe, Asia Pacific, Africa and the Middle East. The Lumia 435 is a budget-minded handset with a Snapdragon 200 chipset with a dual-core CPU, 1GB of RAM and a 4" LCD display (480 x 800 pixels).
It's also destined to receive Windows 10 once the OS reaches its final status alongside the Lumia 730, Lumia 930 and Lumia 1520.
Additional specifications of the Lumia 435 include a weight of 131.9g and a 1,560mAh battery, good for almost 12 hours of talk time or 21 hours if you're on 2G. The phone boasts 42.2Mbps downlink speeds over 3G, which is about as good as it gets pre-LTE.
A
A fool will surely go for it in this price, Seriously Lumia 535 can be bought in the same price!!!
R
Its is Nokia Lumia 520 with 1Gb of ram and Microsoft name.
D
I'm sure when this phone goes global it'll cost no higher than 50$ or 55$ at tax, which is a Monthly Bulk-Ramen price tag. It'll be dirt cheap by next year when T-Mobile/Wal-Mart Family Mobile picks it up and then even cheaper when Sprint and AT&...
ADVERTISEMENTS