Windows Phone 8.1 awaits with its live tiles
Both Lumia 435 and Lumia 532 are running the Windows Phone 8.1 (Update 1) out of box. The latest Lumia Denim software expansion package comes pre-installed, too, for some exclusive software perks. The duo lacks the Update 2 firmware, which brings organized Settings menu and app permissions, among other improvements.
Glance Screen is available only the Lumia 532, which is odd as both run the same OS on the same type of display. Anyway, Glance screen shows you the time and it also supports notifications - the same as the ones you've permitted on your lockscreen. What you get is basically a monochrome representation of your lockscreen. You can opt for the Glance to be always on, timing out after predefined interval, or to light up when you pick up the phone.
Other than the Glance screen, there are no software differences. The lockscreen itself looks the same as the Glance screen, but with colors. Double tap to wake and additional security are available as options.
The familiar interface with resizable live tiles is your Start page, you can group tiles into folders if you like. Almost every app within the Store comes with its own tile and you can see useful info live at your homescreen. Tile background is available and while it looks great, still not all live tiles are transparent, which can detract from the overall effect.
The Action Center is your place for four customizable toggles and all notifications in Windows. It works just like on Android OS - you access it by pulling down from the top of the screen, dismiss all notifications key is available.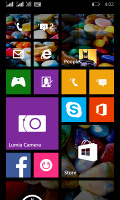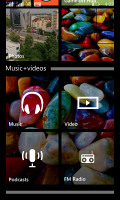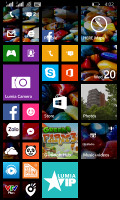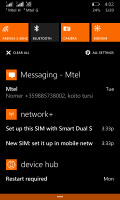 The Start background • Action Center
Microsoft likes Apple's way of handling apps running in background - most of the apps are suspended upon hitting the Windows key and will be resumed once you bring them back. There are others, of course, such as Navigation, Cortana and Battery apps, which will continue to run in background unless you specifically kill them.
Quiet Hours mode is Windows Phone's take on the Do Not Disturb feature - it can be set to block calls and messages over pre-defined time interval, plus it can also go on automatically during events you have marked in your calendar. Naturally, exceptions are available.
Microsoft's Cortana is available to recognizes your natural language commands and questions and provide voice feedback. Cortana can fully interact with your phone and carry out all kind or commands related to it. Cortana can also track various news topics, makes suggestions for cooking and dinner, plan trips, find places and even crack the occasional joke.
Performance
Microsoft Lumia 435 is powered by a very basic flavor of the Snapdragon 200 chipset with a dual-core 1.2GHz Cortex-A7 processor, Adreno 302 GPU and 1GB of RAM. The Lumia 532 runs on a faster version of the chip with a quad-core 1.2GHz Cortex-A7 CPU, while keeping the same Adreno 302 GPU and 1GB of RAM.
It seems the 1GB RAM is now the minimum for the Lumia lineup, even within the entry-level, as it will ease the transition towards Windows 10 later this year. Microsoft promised to update all previous WP8 Lumia phones, even those with 512MB RAM, but the latter seems to require some (unspecified for now) sacrifices.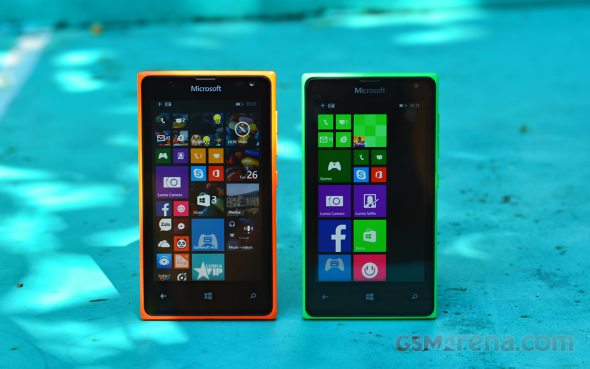 Nobody expected any records in benchmarks department, but we were still curious to see how they do.
The compound AnTuTu is highly skewed towards CPU marks and since the Lumia 435 has just two CPU cores, it gets half the points its sibling achieved. The Lumia 535 even managed to beat the way more expensive Lumia 640 here.
AnTuTu 4
Higher is better
Nokia Lumia 830
12112
Nokia Lumia 735
12095
Microsoft Lumia 640 XL Dual SIM
12009
Microsoft Lumia 532
11778
Microsoft Lumia 535 Dual SIM
11761
Microsoft Lumia 640 LTE
11666
Microsoft Lumia 435
6615
The BaseMark OS II is another compound test, which gauges CPU, GPU, memory, system OS and web performance. The two phones outed the same scores on all departments but the processor, and thus the difference in the final rating.
Basemark OS II
Higher is better
Samsung Galaxy A3
556
Nokia Lumia 830
478
Nokia Lumia 735
435
Sony Xperia E3
417
Microsoft Lumia 532
414
Microsoft Lumia 535 Dual SIM
414
Microsoft Lumia 435
346
The Internet Explorer browser in Windows Phone 8.1 is nothing spectacular, but it's fast and snappy as it could be on this hardware, does a great job rendering web pages and while its JavaScript performance is rather poor as determined by Kraken, the compound BrowserMark 2.1 shows decent numbers for the class.
Kraken 1.1
Lower is better
Sony Xperia E3
16059
Samsung Galaxy A3
18323
Microsoft Lumia 640 XL Dual SIM
26368
Nokia Lumia 830
26542
Microsoft Lumia 640 LTE
26647
Nokia Lumia 735
26913
Microsoft Lumia 535 Dual SIM
26981
Microsoft Lumia 532
27156
Microsoft Lumia 435
28850
BrowserMark 2.1
Higher is better
Sony Xperia E3
1044
Nokia Lumia 735
625
Microsoft Lumia 640 LTE
610
Nokia Lumia 830
599
Microsoft Lumia 435
528
Microsoft Lumia 532
526
Microsoft Lumia 640 XL Dual SIM
502
Microsoft Lumia 535 Dual SIM
480
Samsung Galaxy A3
465
The entry level Lumia smartphones aren't meant to do much gaming or provide blazing-fast performance. They are designed to cover the bare minumum - calls, messaging, social networks, even navigation and office tasks, and we found they managed to do that. Windows Phone 8.1 runs fine on those, as all the crucial apps, though some heavier system apps (such as Skype) may require a few seconds to load. There are a few games that run very well if you are not too pretentious about graphics.