Telephony and contact management
People Hub is the phonebook that you'll find on any Windows Phone device. It supports multiple accounts, including social ones, and has multiple pages like the rest of the WP interface. The first page is your contacts list, the second one is What's New with all of your friends' social updates, then come (chat) Rooms, and Groups.
Just like the People app, viewing a single contact also allows you to check this specific person's social updates plus you can view the complete history of exchange with this contact in one place, displayed chronologically. Everything but status updates is listed here: calls, texts (actually threads from the Messaging hub) and emails.
Each SIM card has separate Phone and Messaging apps, so there is very little chance that you accidentally use the wrong SIM. The People Hub offers a comfy switch to each number, so you can easily choose the card you wish to initiate the call from.
We ran our traditional loudspeaker test and both the Lumia 435 and Lumia 532 scored Very Good marks. The loudspeakers embedded in both devices seems to be the same and are among the loudest around so you won't be missing calls or notifications in louder environments.
| | | | | |
| --- | --- | --- | --- | --- |
| Speakerphone test | Voice, dB | Pink noise/ Music, dB | Ringing phone, dB | Overall score |
| Nokia Lumia 735 | 67.6 | 66.8 | 63.7 | Below Average |
| Xiaomi Redmi 1S | 66.9 | 65.9 | 71.7 | Average |
| Motorola Moto G (2014) | 66.5 | 66.2 | 75.1 | Average |
| Microsoft Lumia 640 | 70.6 | 65.2 | 75.9 | Good |
| Sony Xperia E1 | 70.2 | 73.5 | 75.8 | Very Good |
| Microsoft Lumia 532 | 74.5 | 73.5 | 75.7 | Very Good |
| Microsoft Lumia 435 | 75.1 | 73.7 | 75.7 | Very Good |
| Motorola Moto E | 75.9 | 71.5 | 81.6 | Excellent |
Multimedia
In Windows Phone 8.1 the Photo Hub has lost the magazine UI in favor of the traditional WP page view. You get three swipe-able pages - all, albums and favorites - all pretty much self-explanatory. Automatic OneDrive backup is available, you just need to enable it from the settings. Microsoft gives you 30GB for free plus 3GB for the each device on which you turn on the automatic OneDrive camera upload.
The default Music player in Windows Phone 8.1 uses the familiar page layout - you get Now Playing page; Collection view with shortcuts to artists, albums, songs, genres, playlists, and Music Store highlights. It also allows you to create, edit and delete playlists straight from your phone.
The player is compatible with your Xbox Music account and can stream your songs if you have active connection without saving them on the phone.
Unfortunately, the Music app doesn't support FLAC playback. Equalizer options are available from Settings -> Audio. You can either user presets or customize your own.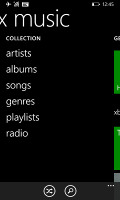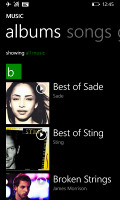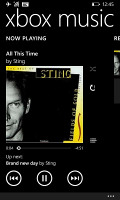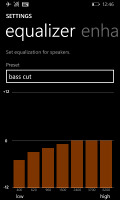 Music app with Now Playing screen and its album view • Equalizers
There's an FM radio with RDS support on board. You can use the loudspeaker for the FM radio, though you still need the headset connected as it doubles as an antenna.
The video player is a separate app called Video. It has a four-page layout - your collection, movie store, TV store and spotlight. It supports XviD, DivX, MOV, WMV and MP4 videos up to 1080p resolution. The few things it won't play are H.264 videos (often found in MKV containers) and videos using the AC3 audio codec. There is a limited subtitles support.