A first of many
Microsoft Lumia 535 and 535 Dual SIM review: A first of many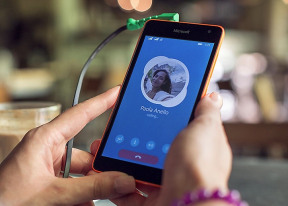 Introduction
It's a Lumia like the rest of them. A new youth player promoted to the first team, which will have no trouble blending in. It's just a different name on the familiar kit. Microsoft is starting from the bottom up - an entry level handset, no redesign to speak of. Lights will soon be out on Nokia Devices but Redmond isn't in a hurry to challenge the Finnish-made flagships just yet.
Yes, the Lumia 535 is just like the rest of them. Sensible, reliable, affordable. The closest thing to a risk it's taking is screen size. Five inches of screen diagonal isn't unheard of at the low end but it's still a massive step up from the Lumia 520, which is the obvious predecessor.
The Microsoft Lumia 535 does well to up the resolution accordingly. qHD isn't ideal on a 5" screen but the pixel density is effectively matching that of a Lumia 520 - it's what matters after all from a user perspective.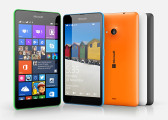 Microsoft Lumia 535 official pictures
The Microsoft Lumia 535 probably uses the Nokia Lumia 520's camera and adds an LED flash to it. The predecessor had no front camera whatsoever and the Lumia 535 boasts a wide-angle, high-res selfie cam, as seen on the Nokia Lumia 735. The CPU has got an extra couple of cores - true, it's Qualcomm's cheapest but Windows Phone is known for running smooth on all sorts of hardware.
Here goes the Microsoft Lumia 535 complete package.
Key features
Optional Dual SIM with dual standby model
5" IPS display of qHD (540 x 960 px) resolution, Gorilla Glass 3
1.2 GHz quad-core Cortex-A7 CPU, Adreno 302 GPU, Snapdragon 200 chipset, 1GB of RAM
Windows Phone 8.1 with Lumia Denim
5MP autofocus camera with 480p video recording @30fps
5MP front-facing camera
8GB of inbuilt storage, microSD card slot, up to 128GB
Free worldwide voice-guided navigation with HERE Drive+
15GB of free OneDrive storage
FM Radio
1,905mAh Li-Ion battery
Main disadvantages
The screen has low pixel density (not awfully visible, to be fair)
No Glance screen
Low battery capacity, especially for a dual SIM smartphone
Low-res video recording
The neat design with the usually rich color options has always been part of the deal in the Lumia range. It's a budget WP smartphone we're talking about with a big screen and a high-res front camera. Not bad in terms of selling points considering the price is more than acceptable.
The screen isn't ridiculously pixel-rich but the extra size has its advantages in navigation, web browsing and office tasks.
The biggest turn-off is video recording - although the phone doesn't pretend to be anything special, 480p video isn't doing it a favor. Maybe it made sense to Microsoft to do proper 480p rather than poor 720p (Lumia 520), but we're merely guessing here. It's not the Snapdragon 200 to blame, it's not the single gig of RAM either. 480p video doesn't quite make sense on a device with higher than WVGA screen resolution.
To make up for it, the Lumia 535 is the second Lumia phone to offer a wide-angle 5MP front camera. It's entirely up to you how that's a benefit - selfies or Skype video calls.





Microsoft Lumia 535 live pictures
The big screen, the dual SIM capabilities, the high-res front facer and the light price tag will sure raise the Lumia 535 above the majority of entry-level smartphones. We're about to test its real-life performance and see how it stacks against its siblings and the competition from outside the WP camp.
Let's get started.
M
Is this phone ever going to work to open the apps and so on
E
Does the nokia still working nowadays or it is already blocked by its manufacturer and can no longer use?, Or still, i really like to use this phone