A first of many
Microsoft Lumia 535 and 535 Dual SIM review: A first of many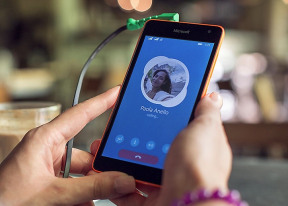 Final words
An affordable, big-screen smartphone, with dual-SIM support at that, the Microsoft Lumia 535 looks like a package that's made to measure for the emerging markets. No wonder India was one of the first destinations confirmed.
The phone has now been listed in the UK as well. Most likely, it's the single-SIM version. It's the kind of flexibility Redmond must have been looking for. The Lumia 535 is the first phone to wear the Microsoft logo and it will need all the exposure it can get.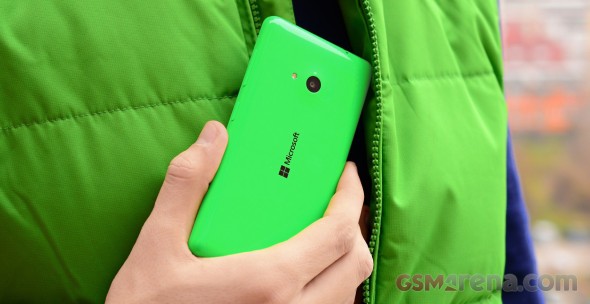 Microsoft are probably taking their time, probing the market with an entry level phone, and not taking huge risks. The flagships will certainly come but, with there're still a few solid Nokia-made options around which Microsoft wouldn't mind making the most of.
One of those is the Nokia Lumia 735, which is in an entirely different price range, but generously lends its wide-angle, high-res selfie cam to Microsoft's Lumia 535. That's certainly another potential selling point, whether it's selfies that you fancy or the Skype-optimized video quality.
Anyway, Microsoft is treading carefully. An affordable, entry-level phone will be less judged and can potentially reach a wider audience, giving Redmond a good start.
The low-res video recording is a potential deal-breaker but it's really one of few. The screen resolution is just enough at best for the 5-inch diagonal but size matters in a good way in things like web browsing, handling office documents and in-car navigation.
That said, the office package and the HERE Drive+ apps have been a traditional Windows Phone advantage over Android competition.
Let's check out the key test findings we've come to in our review process.
Microsoft Lumia 535 key test findings:
The 5" IPS display is OK, average pixel density, high maximum brightness levels, disappointing sunlight legibility and poor touch accuracy
Battery life is only average, but that's OK for a dual-SIM smartphone
Windows Phone 8.1 is nice and snappy, Cortana is a capable voice-operated assistant, but it's still not available in all regions
The CPU benchmarks are OK, but the GPU is behind the curve; Snapdragon 200 will soon be an outdated choice even for the low-end devices
The speaker is of average loudness
Audio output quality is clean, but quiet
Decent camera quality, but video recording is limited to WVGA; front snapper offers high-res selfies
The video player played fine most of the video formats we threw at it, except MKV files or those with AC3 audio encoding; 720p and 1080p videos are hardly playable.
Lumias come with a package of seriously value-adding preinstalled apps - Here Drive+, Lumia Camera, Lumia Storyteller, Lumia Refocus, etc.
There are lots of similar smartphones on the market, when it comes to specs comparison - a 5" dual SIM-enabled smartphone with a quad-core processor is already becoming quite a common option. Let's check out a few of those.
The LG L Bello is quite the looker, enhanced by LG's latest innovations - the rear control deck and the Knock Code for its lockscreen. It matches the specs of the Lumia 535, and brings better GPU and better camera, and sweetens the deal with an Android 4.4 KitKat OS. The L Bello will cost you about €50 more though.
The Sony Xperia M2 Dual is a really attractive offer because of its dual-call feature. The M2 dual relies on two separate radio modules, which allows both SIM card to be active simultaneously, even when one of them is in a call. It has a 4.8" qHD display, better Snapdragon 400 chip with more powerful GPU, and a capable 8MP rear cam. Then again, the extra features costs €50 above the Lumia 535 Dual SIM.
HTC Desire 516 Dual SIM is a perfect match of the Microsoft Lumia 535, ticking all boxes in all departments - display, hardware, camera and battery. However it runs on the rather old Android Jelly Bean OS. The price is yet again higher, and with this hardware, Android is nowhere as snappy as Windows Phone. The jury is still out on whether the phone will be updated to a newer OS version, so that's potentially a huge deal breaker.
Alcatel Idol 2 also is another good match, with the same hardware highlights, but with a better camera and €70 more expensive price tag. It has a faster processor, but its dual-SIM flavor does away with the memory card slot.
As you can see no major manufacturer can match the Microsoft Lumia 535. They can offer similar or better phones, months after they were officially launched, but then again - nowhere near the Lumia 535 retail price. This sole achievement is commendable and the Microsoft Lumia 535 indeed seems like an undisputed bang-for-buck champion in the €100+ entry-level segment.