Microsoft announced the new Lumia 640 and Lumia 640 XL at the recent MWC 2015. Both Windows Phone devices are now up for preorder at the Microsoft UK website.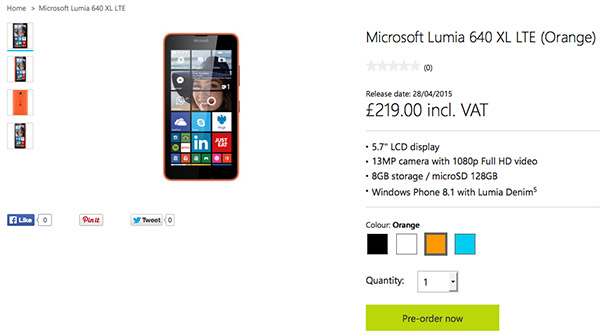 The Lumia 640 is listed at £170, while the Lumia 640 XL is priced at £219. And the listing for both phones state the available from 28 April onwards. Microsoft Lumia 640 XL was recently put for preorder in Germany.
The Lumia 640 offers a 5" HD LCD display with Corning Gorilla Glass 3. It packs Qualcomm Snapdragon 400 SoC with 1.2 GHz quad-core CPU, 1 GB RAM, 8 GB of expandable storage, 8MP rear camera with LED flash, 1MP front camera, DLNA support, and 2,500 mAh battery.
Microsoft Lumia 640 XL features 5.7" HD LCD screen with ClearBlack technology and the same Snapdragon SoC as the Lumia 640. However, this handset features a 13MP rear camera with Carl Zeiss f/2.0 optics, and a 5MP front camera for selfies. It packs 1 GB RAM, 8 GB expandable storage and a 3,000 mAh battery.
We managed to take a quick look of both Lumia Denim update running devices at the MWC 2015.
Thanks for the tip, Razerboy2000!
a
same features with 2gb ram will so great
A
Mind you this £170 price is for the LTE version. so i should expect less for the 3g variant. Source: http://www.microsoftstore.com/store/msuk/en_GB/p­dp/Microsoft-Lumia-640/productID.315162600
D
Hey friend who love window 640 3g dual then please post your opinion in it's review section. I love window....