Now that the long-awaited Windows flagships Lumia 950/950 XL are already out and selling, we can turn our heads lower down the Lumia ranks. Next in line for release is apparently the Lumia 850, and it has now been leaked in detail front and back.
Codenamed Honjo, Microsoft's entry into the upper midrange is no stranger to us, as we already got a glimpse of it about a week ago. However, this is the first time we're seeing it head on, not counting the blurry live photo.
The new image, courtesy of @evleaks reveals the front-facing flash the leakster promised when the first back-only renders surfaced. The smartphone bears little resemblance to the Lumia 830 it's bound to substitute, replacing the sharp corners with rounded ones, more in line with the shapes of the 950's.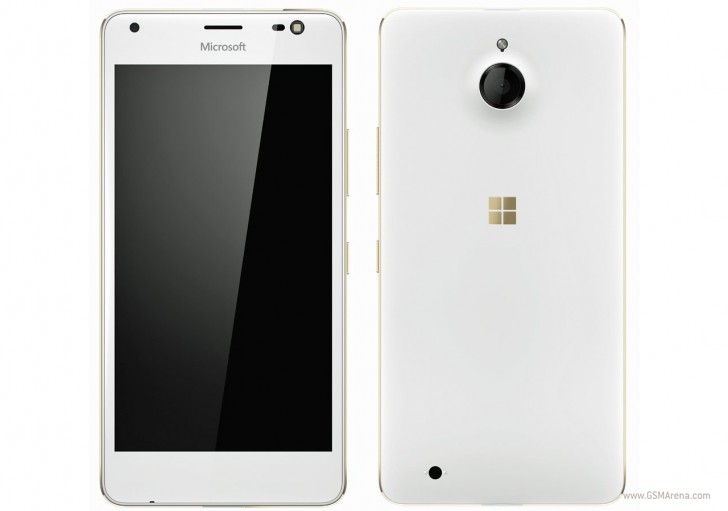 The capacitive keys under the display seem to have disappeared from the 850 as well, so the onscreen navigation won't be exclusive to the top tier. The hardware shutter button appears to be gone too, a change we hoped to be a mistake in the initial renders.
Another key aspect in the Lumia 850's design is the gold color scheme. Not actual gold plating, the color has been used on the frame and buttons, as well as the Microsoft logo on the back.
What we know on the Lumia 850's specs is a few months old now, so it may very well have changed. Nonetheless, the old specsheet leak lists a 5-inch HD display, Snapdragon 410 chipset, single gig of RAM and a 10MP PureView-branded camera. However, the more recent leak suggested a 5.7-inch FullHD panel and Snapdragon 617 chip, which sounds more appropriate for the segment where the Lumia 850 is positioned.
?
Plz mention exactly when lumia 850 will be launched.....Desperately waiting for it
A
Nokia when will you learn? There is Chinese brands now. Snapdragon 410 at this time? Worst phone of Xiaomi packs more power.
D
Fine. Anyway, this doesn't prove anything and have anything to do with what I tried to convey here. Enough with the talk about ownership and patents and licenses. The main point here is that 850 copied LG Nexus 5X. Done.
ADVERTISEMENTS