Legendary edition
Microsoft Lumia 950 review: Legendary Edition
Windows Continuum
When it first unveiled Windows 10 last year, Microsoft briefly talked about a new feature called Continuum, but back then it was in the context of switching UIs on convertible devices based on whether you have the keyboard connected or not. And Continuum can still do that, but in the final version of Windows 10 Mobile it can do so much more.
Continuum kicks in when you connect your Lumia 950 to a monitor, keyboard and/or mouse via the proprietary Microsoft Display Dock. The UI you'll see on the monitor won't just be a 1:1 representation of the handset's screen. Instead, the phone is basically turned into a makeshift PC, which will even work with a mouse and keyboard for interaction. Wireless Bluetooth peripherals work too, but of course, you connect them to the phone, not the dock.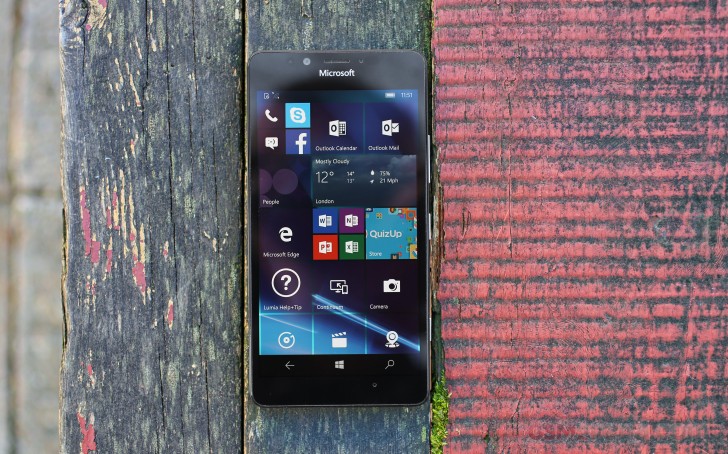 Yes, it's a Windows Desktop, the same one you see every day on your Windows 10 PC but without the icons and without a right click action on the mouse. Upon connection you see your phone's Start screen on the left side of the monitor, but if you open a universal app that will take over the whole width of the monitor, as you can see from the screengrabs above. So you'll have no wasted space, and you'll be able to do some work in a much easier way than if you were to simply glance at a representation of your phone's screen.
The task bar is there, Cortana, Task View, and the Start Menu making much more sense now as it's actually your phone's screen. Oh, and you can continue to use your Lumia 950, while it's connected to the dock, it doesn't lock the screen at all. How cool is that?
Furthermore, all the usual PC keyboard commands work in this mode, so you can use Ctrl+C for copying, Ctrl+V for pasting, and so on. Microsoft says it wants to let smartphones scale up to a full PC-like experience and they've done a great job out of it.
You may remember that Ubuntu came up with a similar concept a few years ago, but the Ubuntu for Android project flopped eventually - perhaps because it was trying to do more (run 'full' Ubuntu when the phone was docked), but also because it wanted to pair two different operating systems from two different companies on the same device. In Microsoft's case, it's all Windows, so Continuum actually makes sense.
Microsoft's proprietary Display Dock is recommended for Wired or Wireless connection with the Lumia 950. From there it's all wired - you need to hook up your display with an HDMI cable, and connect a keyboard and a mouse. You can use wireless peripherals, most of the USB dongles for connecting accessories worked just fine.
The dock is small and beautifully designed - besides the USB type-C ports for charging and connecting the phone, it offers 3 USB 2.0 ports, an HDMI output and even a DisplayPort. There is even a microUSB. The accessory doesn't come cheap ($99, €109), but many retailers are offering the Lumia 950 with a free dock, which is nice.
If you don't want to spend a small fortune on the Display Dock, there are alternatives. You can use the Miracast protocol to connect to an external display, which will enable Continuum. But for the input you can either connect Bluetooth keyboard and/or a mouse, or use the virtual touchpad and keyboard on your Lumia 950's display.
You can do the same with a proper USB-C to HDMI adapter as well, and once again rely on Bluetooth accessories for input or your phone's display.
Not using the dock saves you money and spares you an additional accessory, but if you need to connect SD cards, USB sticks, among others, you will need the dock. Don't forget the Display Dock also (fast) charges your device.
So, is Continuum really worth it? Sure, but there are lots of limitations you should be aware of.
For example you can't install Win32/Win64 desktop apps, just ARM-compatible from the Windows Store. The case is somewhat similar with the original Surface RT. We didn't expect the Lumia 950 to do so, but lots of people might have been misled to believe so during the announcement.
Once you hook all the necessary cables to the dock (the phone, the charger, the HDMI cable, keyboard (optional) and mice (optional), you are good to go. There are no need of drivers or additional app installations, the Continuum app launches up automatically and your screen will light up with a Windows desktop.
The Lumia's display acts as touchpad, and if you don't connect a keyboard, you can use it as a keyboard, too. You can opt to close the Continuum phone app and continue to use your phone. As promised, you can still use your phone, while you are using the Continuum screen. You can make calls, check emails or write messages. You can explore photos or shoot with the camera. You can't open the same app twice though, so if you have Photos open in Continuum and try to open it on your Lumia screen, it will just move to your phone display.
As it turned out, there is no actual desktop to put app shortcuts and files on it. It's just a static picture needed to fill the blank space. Your actual desktop is the Start menu, which doubles your phone's default Start homescreen. All apps pane is available as well.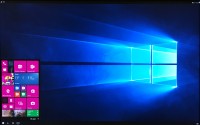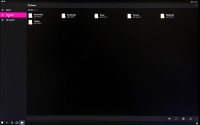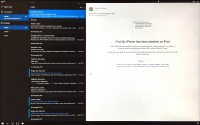 Continuum's fake desktop • the file explorer • Email
Most of the default apps are Continuum-enabled, but most of the Store app aren't. They need to be updated for Continuum to work, but we hope the devs will do sooner rather than later. The incompatible with Continuum apps are grayed out.
When you are running in Continuum mode, most of the basic shortcuts you are used with in Windows work - copying, paste, explorer (launches the phone's file manager though), but not Show Desktop as there is no desktop to show.
Side by side snapping of windows is not possible, neither is multi-tasking. The apps, which are automatically minimized upon opening another, just go in suspended mode.
The Edge browser, Word, Excel and One Note ran smooth and looked a lot like their Desktop counterparts. You can indeed do more with Continuum and replace some of your Desktop functionality, but not all of it.
As promised, you can still use your phone, while you are using the Continuum screen. You can make calls, check emails or write messages. You can explore photos or shoot with the camera. You can't open the same app twice though, so if you have Photos open in Continuum and try to open it on your Lumia screen, it will just move to your phone display.
Windows Continuum works fine and with the expanding app portfolio it will find its loyal users and probably expand the Windows user base and market share.
Performance
Microsoft Lumia 950 runs on the Snapdragon 808 chip, which may not be top of the shelf, but proved to be more than enough to handle 1080p screens and beyond. It's become the choice for both upper mid-range and flagship series and Microsoft chose it wisely for the Lumia 950. It's the Lumia 950XL that uses the upper-grade Snapdragon 810 chipset.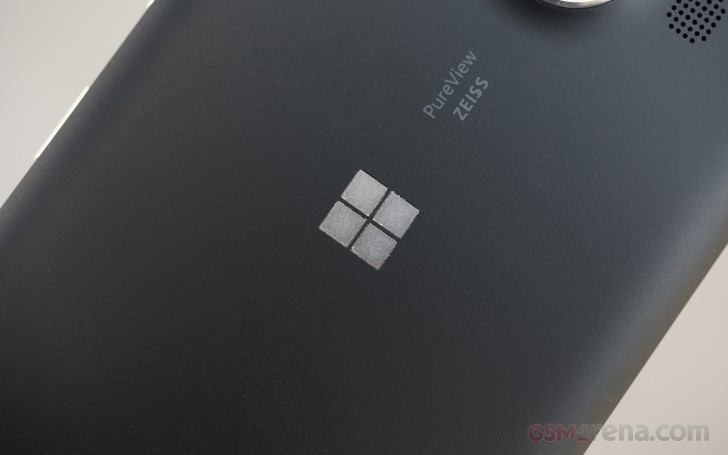 The Snapdragon 808 chip offers a hexa-core processor, Adreno 418 GPU and 3GB of RAM. The CPU is quite interesting with 2x 1.82 GHz Cortex-A57 & 4x 1.44 GHz Cortex-A53 cores and coupled with the 3 gigs of RAM it should be perfect for multi-tasking and Windows Continuum.
Microsoft reportedly implemented the liquid cooling solution used in Microsoft's tablets to keep the Lumia 950 series running cool. Unfortunately the new system is applied only within the Lumia 950 XL, not the 950. And indeed it gets a little bit warm when busy, but way below the concerning levels some S810 phones are outing.
The only higher than usual temperature levels we detected were when using Continuum. The Lumia 950 is busy outing picture on two separate displays and working with two different apps, all of this while fast charging. The heat is understandable and the lack of premium cooling system is obvious. The phone doesn't overheat though and while the heat is unpleasant, Continuum is the only time when you are not actually holding the phone in hands.
The compound BaseMark OS II 2.0 gauges CPU, graphics, memory, web and system performance and the Lumia 950 does as well as the Xiaomi Mi 4c, also powered by an 808 chip. The LG G4 has identical hardware - a Quad HD screen and 808 chip, but it scores better.
We hoped Windows 10 Mobile would give the Lumia 950 an edge over the competition, but this is not the case.
Basemark OS 2.0
Higher is better
Apple iPhone 6s Plus
2261
Samsung Galaxy S6
1674
LG G4
1584
Samsung Galaxy Note5
1570
Samsung Galaxy Note 4
1328
Microsoft Lumia 950
1281
Xiaomi Mi 4c
1233
Meizu m1 metal
1039
The Adreno 418 isn't the most powerful GPU around, but it sure makes it among the all-rounders lineup. It shows some nice skills on the BaseMark X GPU test, quite like the LG G4 sibling.
Basemark X (medium)
Higher is better
Samsung Galaxy Note5
36475
Samsung Galaxy S6
36302
Microsoft Lumia 950
26330
LG G4
24990
Samsung Galaxy Note 4
19586
Meizu m1 metal
15343
Finally, it's time to put the new Edge browser to the test. While Microsoft sure improved the page load and rendering, it still isn't as capable as Chrome and Safari when the raw performance is concerned. The Edge, even backed up by the powerful S808 chip, did poorly on both the Kraken JavaScript test and the compound web bench BrowserMark 2.1.
Kraken 1.1
Lower is better
Apple iPhone 6s Plus
1731
Samsung Galaxy Note5
3702
LG G4
4085
Samsung Galaxy S6
4154
Xiaomi Mi 4c
4506
Samsung Galaxy Note 4
5351
Microsoft Lumia 950
6856
Meizu m1 metal
11887
BrowserMark 2.1
Higher is better
Samsung Galaxy S6
2718
Samsung Galaxy Note5
2324
Samsung Galaxy Note 4
2208
Xiaomi Mi 4c
2113
LG G4
1990
Meizu m1 metal
1548
Microsoft Lumia 950
1056
The Lumia 950 is clearly powerful enough to handle Windows 10 Mobile and whatever you install on it. The Windows Continuum is amazingly responsible.