The Master Chief
Microsoft Lumia 950 XL review: The Master Chief
Microsoft Edge web browser
Naturally, Microsoft brought their new web browser - Edge (previously known as Spartan) - to Windows 10 Mobile as well. It looks a lot like the IE11 we saw in the last Windows Phone 8.1 OS, but it's lighter, faster and with even simpler interface.
It supports bookmark sync with your Microsoft account, there is Reading list, Reading mode, incognito tabs and download manager. Find on page option is here to stay.
The Edge renders pages great, it's fast and we can safely say it is catching up with Chrome just in time.
Preinstalled apps
Microsoft's Windows 10 Mobile comes with a varied preinstalled set of apps.
First - you get the latest versions of Word, Excel, PowerPoint and OneNote. Creating, viewing or editing documents and presentation is very easy, as is taking notes and checklists. It's the best office suite out there and has tight integration with OneDrive, which means you will be getting all of your files synced across all of your devices, no matter the OS.
All apps from the MS office suite support Continuum and expand just awesome in full-blown desktop mode.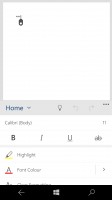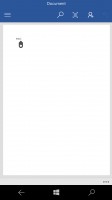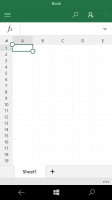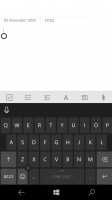 Word • Word • Excel • One Note
OneDrive is onboard of course, with 30GB free space for starters. Its user interface is getting friendlier by the day and many people are already preferring it over Dropbox.
All other organizing tools are available at first run - there are Outlook Calendar, Alarms, Calculator and Weather apps. The Calculator is quite like the one you would found on the desktop Windows - it supports scientific and programmer calculators as well as various conversions such as volume, length, weight, temperature, energy, speed, time, power, pressure, angle conversions, among others.
Microsoft's Money, Sport, and News apps are available, too. The News app is particularly great and aggregates news stories from a plethora of sources. Flipboard comes pre-installed as well.
The updated Xbox app is here too, you can view and compare achievements, chat with your friends, invite them to game sessions, edit your avatar, among other things. You can even use your Lumia 950 XL screen for remote Xbox One gaming, once you connect your console to the app. You still need to play with a controller though, so you'll have to get a proper accessory to combine the wireless controller with your Lumia smartphone.
You can shop Xbox One and Windows 10 apps from here as well, and they will later install on your console or PC.
Finally, the new Windows Maps app, based on Here map data, allows you to search for places, view nearby POIs, and, of course, it can do turn-by-turn voice-guided navigation. Offline maps are available, too.