Introduction
Microsoft unveiled a couple of mid-rangers, but no flagships. The high-enders will come later, for now we get the Microsoft Lumia 640 XL phablet with Zeiss camera and the Lumia 640, both on their way to a Windows 10 update and both with a full range of connectivity options.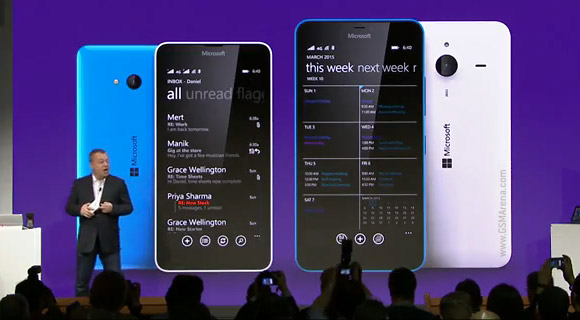 The Microsoft Lumia 640 XL is the more interesting of the two, priced at €190 for the 3G version and €220 for the 4G LTE version. This much money gets you a 5.7" HD IPS screen with ClearBlack and a 13MP camera with Zeiss f/2.0 lens and 5MP selfie camera, both of which can do 1080p video.
The Microsoft Lumia 640 is smaller with a 5" HD IPS display and will come at €140/€160 for the 3G/4G version. While its camera doesn't have Zeiss branding, it's much better than what previous 6-series devices got - an 8MP main camera with 1080p video capture and a 1MP/720p selfie camera. The Lumia 635 didn't even have a flash.





Microsoft Lumia 640 XL and Lumia 640
In terms of connectivity both phones are fully loaded - you can get either a 3G or a 4G LTE device, both with an option for dual-SIM connectivity.
Microsoft sprinkled some cool value-added features including 60 Skype minutes per month for a year. That makes calling abroad cheap and easy, but you also get 1TB of OneDrive storage and a subscription to Office 365 for a year.
B
"I love Microsoft lumia 640"
A
Microsoft is falling behind. 930 is not good enough... lack of glance (big-big mistake, battery life etc.) I am also waiting for a new device to replace my 820 but currently I see nothing from microsoft... very said things happeing very bad tendenci...
M
Hope 640 dual has compass