Microsoft offers free tools, devices, and training to webOS developers

This is a classic example of the saying that there is an opportunity in every loss. In this case, Microsoft is taking advantage of webOS's demise by offering its developer community "free phones, dev tools, and training."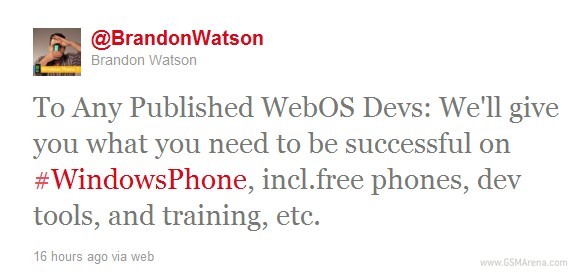 As you can see above, the words come from no other but Brandon Watson - the senior director of Windows Phone 7 development in Microsoft.
This is yet another example about how serious the company is in making its Windows Phone platform a serious contender on the market for mobile devices, which is currently dominated by Google's Android OS, and Apple's own iOS. A few months back, the software giant released an iOS to WP7 porting tool as well.
n
i dont tink microsoft havin any chance in this ward because this is a other leve
J
The HP tablet was sold out in Australia in 1 hour.
ADVERTISEMENTS