Microsoft Photos Companion app for Android and iOS helps ease transfers to a PC
Microsoft has launched a new app for both Android and iOS today. It's called Photos Companion and its name is pretty self-explanatory. Its aim is to help you easily transfer the photos you have on your phone to your Windows 10 PC. They will then be available in the Windows 10 Photos app.
To use it, after you've installed it from the iOS App Store or the Google Play Store, you just scan the QR code shown in the Windows Photos app. To make sure that has the required functionality, grab the latest update from the Microsoft Store.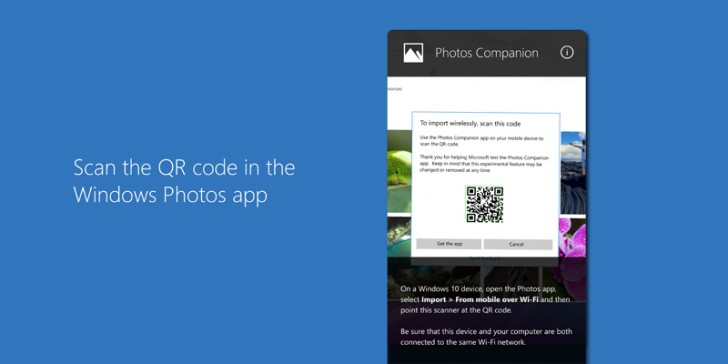 Once your phone and the Windows 10 Photos app are 'paired' after that barcode scan, you're able to batch send multiple photos to the PC over the same Wi-Fi network. The pairing isn't permanent, mind you, it will have to be redone every time you want to transfer something over, but that's not very hard. You can edit, customize with ink, and of course share photos with your friends once they're in the Photos app on the PC.
Interestingly, you can start a video project in Windows Photos, and then directly add images and videos into it from your phone.
?
I just use the photo app on my pixel. Seeing MS add apps to a competitors store is funny.
M
Android best for file management? Are you kidding? After the idiots at Google removed USB storage mode Android is stuck with MTP and PTP which both suck plain and simple. It's quite literally quicker to power down my phone, remove the SD card, ...
?
That's not true. Why do people who don't use iTunes hate on it so much when they don't know what they're talking about? Also at least it's secure and not full of virus's so u know everything is safe. On my laptop I've created a folder through iTunes ...
ADVERTISEMENTS