Microsoft announced its financial results for the quarter that ended in December. It made $5.8 billion in net income on $26.5 billion in revenue, marking an increase of 8% in revenues compared to the same quarter last year though it lost some profitability, a year ago the net income was $6.5 billion.
Part of that is a $243 expense related to the continuing integration of the Nokia Devices and Services division. That division has been doing well – it sold 10.5 million Lumia phones, up from 8.2 million a year ago and 9.3 million in the previous quarter.
Revenue slipped as the market reorients towards the affordable side of the Lumia line. In total, phone hardware brought in $2.3 billion in revenues. The featurephone department sold 39.7 million phones, declining along with the market for non-smart handsets.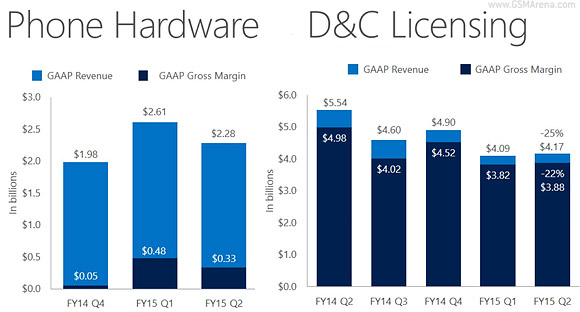 Surface, another part of Microsoft's hardware unit, showed a 24% growth driven by the Surface Pro 3. Overall it scored a revenue of $1.1 billion, up from $908 million the quarter before.
The other big hardware line, Xbox, sold 6.6 million consoles in total (that's 360 and One combined), down from 7.4 million in the year ago quarter. The Xbox One price had a bit of a roller coaster ride, but eventually settled on #350 (sans Kinect). That price cut may have driven sales in numbers up, but revenue is down 20% year over year. Microsoft did not specify how big the Xbox One share is in the total sales.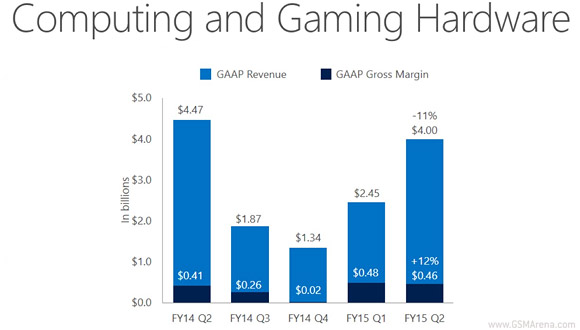 Microsoft's traditional bread winner, Windows, had a 13% drop in revenue from OEMs. Part of that is the new class of low-cost devices (some of which cost as much as a Windows license). Businesses are still sticking to Windows XP, reluctant to buy into Windows 8.
Microsoft made a move to unify its platform by offering free upgrades for Windows 7 and 8 to the new version, Windows 10. This will unify the fractured ecosystem and the universal apps will give the phone OS a boost by making it easy for devs to make an app for both desktop and phone with little extra effort.
The cloud services are doing quite well with revenue up 9% for Microsoft's server offerings and more than double for its cloud offerings. Office 365 in particular grew to 9.2 million users, up from 3.5 million a year ago. That ate into the desktop Office though, which is down 25%.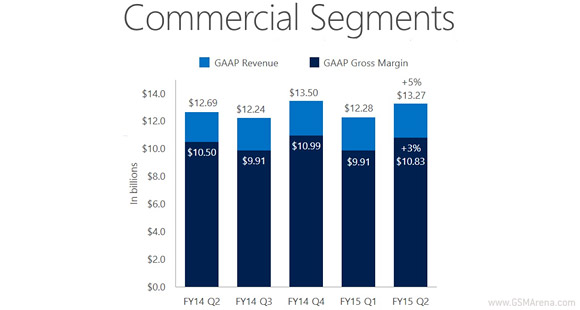 Bing drew in 23% more search revenue and ended the year 2014 with 19.7% market share in the US. Deeper integration with the desktop (via Cortana) should give it another boost going forward.
D
Would still buy a 535 if i didnt have 2 lumias (520 & 1020) and an android. The phone is really good for its price
?
Bit of a shame they have so many problems
D
Lol, biggest joke I have hear in my life. Blackberry's total sales figure(BB7+BB10) was 1.9m last quarter. Lumia has more than FIVE times this figure and remember there are other Windows Phone makers too. Carriers have tried BB10 before only to get m...
ADVERTISEMENTS