Microsoft has made yet another app for Android, this time a keyboard. The Microsoft Hub Keyboard looks like a simple keyboard at first but it has a few tricks up its sleeve.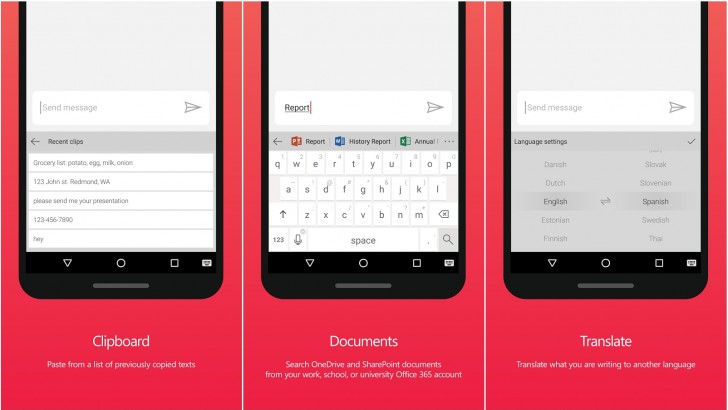 The keyboard has four main features. The clipboard feature shows you text you had previously copied so you can paste it with a couple of taps. The documents feature lets you login to your Office 365 account and paste the URL of the files by typing their names. The contacts feature lets you type the name of the contact and paste their details by tapping on the suggestions above. Lastly, there is a built-in translator, which can translate the text you're typing to any other language.
That aside, the keyboard is extremely basic and does not even have autocorrect, which makes typing extremely difficult. There also doesn't seem to be any way to access emoji if you're using this keyboard. Some of these drawbacks makes the keyboard hard to use for basic typing and the addition of the features above doesn't really make up for that. Would have been better if Microsoft had worked on the fundamentals first before adding more features.
?
Hahahaha! So Android became a free testing platform for Microsoft. That way they can have their apps tested by a lot of users for free and when they deem them good, they'll add them to Windows Store and add some extra features. Don't know if they'l...
D
It's a neat concept. I hope they eventually incorporate these features into their very good WordFlow keyboard on Windows 10 Mobile. As a side note, I really hope they bring their WordFlow keyboard to full Windows 10.
D
It's not a beta, it's an experiment. A research project, basically, from the Microsoft Garage project.