The Lumia 640, which was announced last month at MWC 2015, made a brief appearance yesterday on the US Microsoft Store website, giving us an idea about the carrier pricing for the device in the country.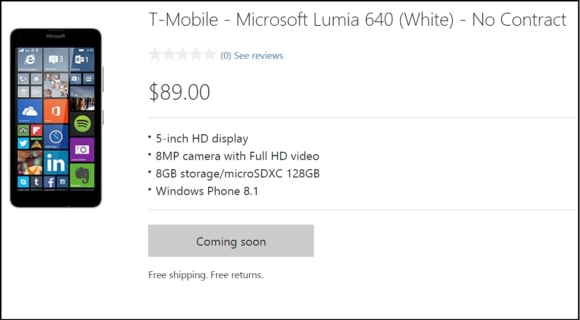 Although for a short duration of time, the device was listed as "coming soon" for just $89 -- the listing (see image above) has since been pulled by Microsoft. What's worth mentioning here is that this is the no-contract pricing.
This comes just a day after Expansys USA started offering the unlocked Lumia 640 LTE (dual-SIM version) for $220.
Via
?
lol at the person saying "contract system is best". he/she obviously doesn't understand how the contract system rapes you over that 2yr span.
j
If its bricked by recovery tool you should Be Ab'e to get It werking again wit That same tool, i should say retry It again
?
Yeah contract system is best. I hope contract sysetem also come to my country to get a $600 device for just $100-$200
ADVERTISEMENTS