Introduction
There is a tall task ahead of the Microsoft Surface 2. The first generation of the Microsoft tablet arrived with much fanfare but had little success, and the newcomer has to entice new customers, proving along the way that Redmond can be a factor in the consumer tablet marketplace and, more importantly, that Windows RT has a future as a platform.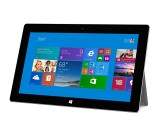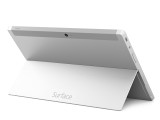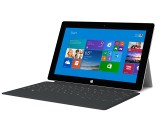 Microsoft Surface 2 official photos
To make a case for itself, the Microsoft Surface 2 comes with an OS update. Windows RT 8.1 is a notable improvement over its predecessor, which includes welcome UI tweaks, better integration of Microsoft services, as well as a broader choice of third-party apps compared to a year ago.
In addition to the updated OS, the Surface 2 comes packed with some seriously capable hardware, including an NVIDIA Tegra 4 SoC, a 10.6" FullHD display, a 5MP camera, and a long list of connectivity and storage expansion options. Here goes its full list of talents.
Key features
10.6" FullHD LCD touchscreen, 1,920 x 1,080 pixels
NVIDIA Tegra 4 T40 SoC with Quad-core 1.7GHz Cortex-A15 CPU, 2 GB of RAM, ULP GeForce 72-core GPU
Windows 8.1 RT with deep Microsoft service integration
32/64GB of in-built storage; 200GB of free SkyDrive for 2 years
Micro SD card slot, up to 64GB supported
Dual-band Wi-Fi 802.11 a/b/g/n connectivity with Wi-Fi Direct
Standard USB port, USB 3.0 host functionality
Bluetooth 4.0
HD video out
Accelerometer, compass and three-axis gyro-sensor
5MP main camera capable of recording 1080p@30fps video
3.5MP front-facing camera capable of recording 1080p@30fps videoSuperb build quality and finish
Built-in two-stage kickstand
Built-in stereo speakers
Full version of Microsoft Office available out of the box
A year's worth of free Skype Out calls to sixty destinations worldwide
Duo of available keyboard covers (sold additionally)
Impressive battery life
Main disadvantages
Windows RT app availability is still confined to the Windows Store
Limited amount of good-quality apps available
Heavy compared to most other 10" tablets
Awkward to use in portrait mode
Display resolution falls below the competition in the same price range
There're options with the full-blown Windows 8.1, some at a lower price
At a quick glance, the Microsoft Surface 2 is a worthy successor of the original. It boasts beefed up specs and slightly improved ergonomics, while retaining the same signature design and dimensions, which have become a family staple. The same goes for its additional Touch and Type covers - they offer better experience and ergonomics than their respective predecessors.
The biggest question mark hanging upon the Microsoft Surface 2 concerns its OS. Windows RT has been abandoned by most major players in the industry, with Microsoft and Nokia left as the only manufacturers to go forward making devices to boot the OS. As a result, developers aren't exactly gushing over the prospect of creating cool apps for the platform, thus putting its very future in question.
There is also the matter of the competition which the Microsoft Surface 2 has to face. In addition to a duo of brand new iPad models and a host of premium Android offerings, the tablet has to deal with a few lower-priced Intel-powered tablets running full Windows 8.1.





Microsoft Surface 2 live photos
We will kick off our Surface 2 review with the usual unboxing session, followed by a look at the design and build. Read on to find out what Microsoft's latest and greatest slate looks and feels like in the flesh!
Editorial: You might notice that this review is shorter than usual and doesn't include some of our proprietary tests. The reason is it has been prepared and written far away from our home office and test lab. Still, we think we've captured the essence of the device in the same precise, informative and detailed way that's become our trademark. Enjoy the good read!
w
my charging system have failed, what can I do?
M
I have surface 2 tablet, but I need update windows 8 to windows10, what I can do now, please....
O
Dearest readers +Microsoft authorities.We are in 2016 now and it is the right time to talk about Surface 4 pro qualities and how Microsoft cam be better and best in regainingglobal markets again,especially about the range of humia products...My deare...