5MP main camera
The Microsoft Surface 2 features a 5MP main camera and a 3.5MP front-facing unit. Both snappers are a serious improvement over the duo of 1.2MP units featured in the first generation.
The camera UI is very simple. There are three buttons on the left side - one for taking photos, one for capturing video, and a third one for panoramas. Photos can also be captured by simply tapping on the display.
Swiping up in the camera app reveals more options. They include changing the front and back camera, activating a timer, and adjusting exposure and focus. The camera roll access button is also there.
The Microsoft Surface 2 is certainly not a proper photography tool, so we didn't expect much in terms of photo image quality and we were quite right. Photos come out with pleasing colors and there is not much noise (at least not in good light) but they are somewhat soft, probably due to poor camera optics than anything else.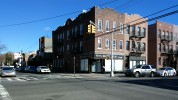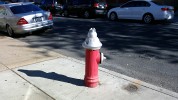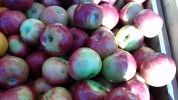 Microsoft Surface 2 camera samples
Full HD video output
Both cameras of the Microsoft Surface 2 are capable of capturing 1080p video. The samples we took with the camera on the back came out really nice. Unlike the still photos, there is plenty of details in videos and they are really smooth.
The video bitrate is 21Mbps, which is plenty. The only downside is that videos are recorded with mono audio.
Internet explorer has two faces
Windows 8.1 RT comes with two browsers preinstalled and offers no other options for now. Delivered with the 8.1update, Internet Explorer 11 handles the web and comes in two forms - one in the Modern UI with a touch-centric interface and another one in the more conventional Desktop version.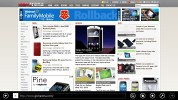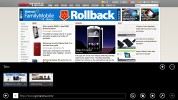 The touch-optimized Internet Explorer 11
In Modern view, IE 11 runs in full screen by default. A swipe from the bottom or top edge of the screen reveals the opened tabs on the bottom. It offers a new tab option, a new private tab, and reopen a closed one. At the bottom is a back button, the unified search/URL bar and options to refresh, pin the current page to start, forward and an extra menu with find on page, view on desktop and "get app for this site" options.
Sharing pages can be done via the Charms menu. Pages can be shared over Mail or the People app, meaning Facebook or Twitter.
Interestingly, if you want to change preferences or settings you can only do so in desktop mode.
IE 11 in desktop mode features a unified URL and search bar, the opened tabs and three virtual buttons for home, bookmark and settings. Opening up a new tab prompts a thumbnail collection of recently opened tabs.
IE 11 is fully Flash-enabled. Watching videos inline is done exactly as you would on any desktop PC. We didn't experience any problems with videos even at 1080p.
Internet Options is well-known IE setting. You can set a home page, choose the level of security, privacy, control the intern content connections, etc. There's an option to open links directly from Internet Explorer in Modern or Desktop mode.
Internet Explorer has come a long way and isn't the once clustered, slow browser many people used only for downloading Firefox and Chrome.
The Surface did a phenomenal job in the JavaScript benchmark SunSpider. Its 405 ms score bested even the latest iPad family achievements.
SunSpider
Lower is better
Apple iPhone 5s
403
Microsoft Surface 2
405
Apple iPad Air
421
Apple iPad mini 2
421
Galaxy Note Note 10.1 2014 Edition
569
Samsung Galaxy Note 3
587
Apple iPhone 5
694
Apple iPhone 5c
704
Sony Xperia Z Ultra
750
Sony Xperia Z1
845
LG G2
908
HTC One
1174
HTC One Max
1295